Abe's Russia Trip Comes to an Underwhelming End
Japan's prime minister may finally have to give up hope of making progress on a long-standing territorial dispute.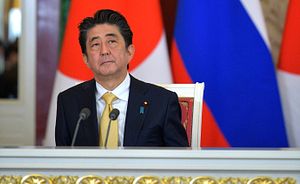 Japanese Prime Minister Shinzo Abe has returned from a four-day trip to Russia, and despite expectations built up in Japan about a potential breakthrough on joint economic activities on disputed islands, the summit produced only piecemeal results. Tokyo is thought to have been banking on Russian President Vladimir Putin having more room to move after the presidential election in March, but will now have to recalibrate its assessment of what is achievable.
Although the disputed islands, known as the Southern Kurils in Russia and the Northern Territories in Japan, have festered as an issue in the bilateral relationship for many decades, Abe has previously indicated he wanted to solve the matter during his time in office. In a sign of the disappointment after the latest summit, Japan's Mainichi newspaper quoted a government official as saying Tokyo had gotten too far forward with its expectations and had misread the temperature in Russia (link in Japanese).
In a major policy speech at the start of the year, Abe argued that Japan-Russia ties had "the most potential of any bilateral relationship" – an upbeat sentiment reaffirmed in Japan's annual Diplomatic Bluebook released on May 15. In his address to parliament in January, the prime minister had vowed to make further progress on joint economic activities as part of efforts to build momentum to concluding a Japan-Russia peace treaty that would formally end World War II hostilities.
Abe's latest trip included a stop in St. Petersburg for an economic forum on May 25 before he traveled to Moscow for the formal summit with Putin on May 26. It was their 21st face-to-face meeting. The pair agreed to speed up work on realizing joint economic activities on the Russia-controlled islands during the nearly three-hour-long summit. This will include a private-sector survey mission to the islands in July or August.
However, the leaders failed to achieve progress on the special legal framework that might apply to those activities, according to a report by Japan's Jiji Press news agency. This has long been a sticking point, because Japan is pushing for an underlying legal framework that doesn't implicitly acknowledge Moscow's claim to the territory.
During the joint press conference with Abe, Putin emphasized that both sides' interests needed to be heeded. "We believe it is important to patiently continue the search for a solution that would satisfy the interests of Russia and Japan and that would be accepted by the nations of both countries," Putin said, as AFP reported.
The Russian president argued that progress had been made. For example, Russia has pledged to facilitate another visit by Japanese citizens to the graves of relatives buried on the islands. They were first allowed to fly there last year. Abe said: "Solving [the broader dispute] is not easy but we would like to end it within the lifetime of our generation."
Temple University Japan associate professor James Brown, who specializes in Tokyo-Moscow relations, said he believed the two sides remained "enormously far apart" on the legal framework issue. Brown told The Diplomat that this summit, when originally conceived, was supposed to be the time for a major breakthrough. He believes the Japanese government had been building up public expectations for years, although this softened somewhat around March "when the working groups on the legal issue were not making any progress."
Asked about the outlook for Japan-Russia relations in the months ahead, Brown said: "I think that it's hard to continue on in the same way. Up until now Abe has just seemed to turn a blind eye to all of the discouraging signs, but if it wasn't going to happen now I don't see why anything would be different in the future." With a Russian official indicating there was no discussion about a reciprocal visit by Putin to Japan, Brown said this may signal disappointment on the Japanese side.
One possibility, he said, was that Russia policy would have a reduced emphasis in future. "It's hard, though, because it's been such a cornerstone of Abe's foreign policy. He's put so much into it that in some ways it's harder for him to reverse."