Don't Forget France in Laos
The former colonial power continues to retain influence in the Southeast Asian state.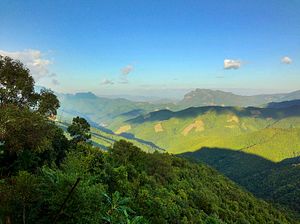 France, once a colonial power in mainland Southeast Asia, left Laos decades ago. But its traces as a foreign actor are still easily found in many parts of the landlocked nation and the country still retains some influence in the Southeast Asian state.
Conversations among outside observers about foreign actors in Laos far too often tend to overwhelmingly focus on China. Thought that might be understandable to some degree – Beijing ranked number one in terms of investment volume and tourists from there are rising year by year – it also understates the role of other influential actors and places the focus too narrowly around just a few indicators of influence.
France is a case in point. In Laos' capital city Vientiane, for instance, it is not unusual to see buildings, roads, and streets with French names, while many stores still use French words and expressions on their banners. And then there are the factoids that serve as further testament to that: to take just one example, Laos is a member state of the Organisation Internationale de la Francophonie, which represents countries and regions where French is the first or customary language.
Last month, in another example of France's influence in Laos, officials from Agence Universitaire de la Francophonie (AUF) in the Asia-Pacific visited Laos to confirm that it will assist Laos to improve the standard of education at Savannakhet University.
The purpose of the visit from AUF officials was to boost relations, further cooperation, and promote the plurality of the French-speaking community in Laos, Vientiane Times noted.
The AUF's main goal is to strengthen university-level French courses and departments in universities throughout the region and closely match the supply of higher education to employment needs in the industry and service sector. The AUF is to support higher education institutions in Laos, including Savannakhet University, through research into their approach to the professionalization of their first cycle level training.
French has not been officially institutionalized as a main subject in all Lao schools, even though some institutions have designated it as a part of mandatory courses. Under the new primary curriculum that the Lao government announced, which will be rolled out from September 2019, French language is not included. Students will learn Lao language, mathematics, science and environmental studies, morals, arts and handicraft, music, physical education, social studies, and English.
Meanwhile, France's effort to reinforce its presence is seen as a benefit on the economic front as well. Take a French delegation's recent visit to the country's Savannakhet province as the latest example. From May 28 to 30, the delegation led by the Ambassador of France to Laos Claudine Ledoux visited Savannakhet province to encourage French investments in the province's Special Economic Zone.
The French delegation learnt about the quality and diversity of the services provided within the zone, including affordable and abundant electricity and water.
Savan Park is a 235-hectare industrial hub, part of the Savan Seno Special Economic Zone and operated by a joint venture between the Lao government and a Malaysian company, Savan Pacifica Development. The park, which is located near the Second Friendship Bridge with Thailand and only 5 kilometers from the international airport in Kaysone Phomevihane City, is considered as one of the most promising investment destinations in the country with various incentives provided by the government.
Commenting on the delegation's visit, the state-run Vientiane Times noted: "France has ambitions to reinforce its presence in Laos and identifies Savan Park as a source of opportunities for its companies to develop their activities in the country."
The paper continued, "[T]he first non-Asiatic investor in Laos and the seventh worldwide, France has made some quality investments in the past, such as the Nam Theun 2 dam and Banque Franco-Lao, and is now willing to move forward by encouraging investments in the industrial sector in Laos' special economic zones." Close observers of Laos would know that beyond the actual quantity of such investment, some of these projects themselves hold broader significance beyond just such narrow metrics.
To be sure, one ought not to overestimate France's role in Laos, just as important as it is not to underestimate it. For perspective, the latest figure available on the French government website shows that France is the ninth largest trading partner and leading European supplier to Laos, although its market share is only 0.2 percent. Trade between the two countries stood at 29 million euros ($34 million) in 2015, falling considerably with respect to 2014's level of of 62 million euros ($72.8 million), indicating the reduced presence of France in the country.
And, to be sure, whether France's efforts to reinforce its presence in Laos will bear fruit will be determined not just by what it does now, but how Vientiane reacts to that engagement and how Paris ranks relative to other significant actors as well into the future. But we should not forget that in conversations often far too dominated by Beijing's role in Southeast Asian states, other actors have their own influence as well and are making efforts to reinforce that.