Could an Australian Solar Farm Challenge Lao Energy Ambitions?
With ambitious plans to export Australian solar power to Singapore, Sun Cable could reshape ASEAN's future power demands.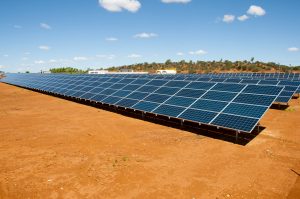 A dispute between two of Australia's richest men – billionaires Andrew Forrest and Mike Cannon-Brookes – over what is potentially the world's largest solar farm appears to have been resolved, and the prospect of selling electricity to Southeast Asia is back on the table.
Cannon-Brookes took control of the $35 billion energy project, to be built by Sun Cable, which has ambitions of selling power to Singapore through a 4,500-kilometer high-voltage direct current (HVDC) electricity cable, which will run through Indonesian waters.
That end of the deal remains as speculative as China's Belt and Road Initiative did 20 years ago, and so do the possible ramifications, particularly for cash-strapped Laos, which has underpinned its hopes for economic prosperity over the last two decades on hydropower generation.
A cascade of 16 dams, with more on the way, was sold to a skeptical public by politicians who promised Laos would become the "battery of Southeast Asia," selling electricity into the ASEAN Power Grid (APG) through the Electricity Generating Authority of Thailand (EGAT).
Lip service was Vientiane's response to objections from environmentalists, scientists, local communities, and economists, as that promised prosperity evaporated under mismanagement and a mountain of debt.
Laos still has ample electricity for sale, but Australian clean solar power alternatives made possible by the development of smaller and longer-life batteries combined with thinner cables capable of delivering electricity has, its backers say, put the Singapore and ASEAN markets within reach.
Importantly, the Sun Cable project would enable Australia to feed excess power into the APG with Singapore acting as broker, which could undercut any further need for hydropower and dams in Laos and challenge EGAT's market dominance, resulting in competitive pricing structures for consumers.
That prospect had made Sun Cable a green investment darling.
Last year it raised $210 million to carry operations through to the end of this year but doubts persisted, and Forrest was "unconvinced of the commercial viability" of sending the power to Asia.
Cannon-Brookes stood firm and maintained the original goal of exporting solar power to Singapore. As the dispute festered, Sun Cable was placed into receivership as the battle over which direction to take the company was fought out behind the scenes.
Forrest and Cannon-Brookes parted ways and Sun Cable is leaving the administration after entering into a sale agreement with a consortium connected to Cannon-Brookes's Grok Ventures, including infrastructure investor Quinbrook.
"We've always believed in the possibilities Sun Cable presents in exporting our boundless sunshine, and what it could mean for Australia," Cannon-Brookes said.
"It's time to stretch our country's ambition. We need to take big swings if we are going to be a renewable energy superpower. So swing we will."
Construction on the Australia-ASEAN Power Link is expected to begin next year on a 15,000-hectare cattle station near Tennant Creek, 750 kilometers south of Darwin, where clouds are rare, and will take five years to complete.
For its part, Singapore needs to substantially bolster its access to green energy while cutting its dependence on fossil fuels to the island-state's net-zero target by 2050. Sun Cable has agreed to supply 1.75 gigawatts (GW) but demand could exceed 2.5 GW.
Should Sun Cable succeed others will follow. Wind power is also rapidly evolving alongside solar, enabling ASEAN countries, particularly those with coastlines, to access additional independent power sources capable of feeding excess power into the APG.
It's a potential boon for mainland Southeast Asian countries where traditional energy supplies – predominantly fossil fuels and hydro – are constantly at odds with the environment but there's also a giant headache in the making for Laos and its hopes to cement itself as the "battery of Southeast Asia."