India, US, and Japan Conclude 'Malabar' Military Exercise
The trilateral naval exercise conducted off the coast of Guam ended on June 16.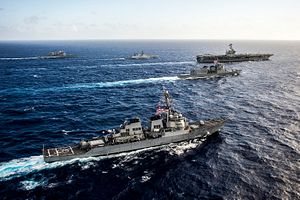 The 22nd rendition of the Malabar naval exercise, held for the first time in waters off the coast of Guam and involving aircraft and ships from Indian Navy, the U.S. Navy, and the Japan Maritime Self Defense Force (JMSDF), officially came to an end on June 16.
According to a U.S. Navy statement, the exercise achieved all of its principal objectives."The exercise accomplished maritime interoperability training objectives among the three maritime forces, emphasizing high-end war fighting skills, maritime superiority, and power projection," a June 19 statement reads.
The exercise was divided up into two parts: a harbor phrase that took place at Naval Base Guam from June 7 to 10, and a sea phase that occurred from June 11 to 16.
"While ashore in Guam, training included subject matter expert and professional exchanges on operations, maritime patrol and reconnaissance operations, anti-submarine warfare, medical operations, damage control, helicopter operations, ship tours, and visit, board, search and seizure (VBSS) operations," the Navy states.
"The at-sea portions conducted in the Philippine Sea were designed to advance participating nations' military-to-military coordination and capacity to plan and execute tactical operations in a multinational environment," the service added. The exercise involved air defense, surface warfare, and communications exercises, as well as, underway replenishments, gunnery exercises, and anti-submarine warfare operations, next to others.
The Indian Navy participated with the INS Kamorta, an anti-submarine Kamorta-class stealth corvette; the INS Sahyadri, a Shivalik-class stealth multi-role frigate; and the Deepak-class fleet tanker INS Shakti. Additionally, India sent a P-8I Neptune advanced maritime patrol/anti-submarine warfare aircraft.
The U.S. Navy participated with the Nimitz-class supercarrier USS Ronald Reagan, the Ticonderoga-class guided-missile cruisers USS Antietam and USS Chancellorsville; the  Arleigh Burke-class guided-missile destroyers USS Mustin and USS Benfold; and a Los Angeles-class nuclear-powered attack submarine, as well as one P-8A Poseidon maritime surveillance/anti-submarine warfare (ASW) aircraft.
JMSDF participation included the 19,000-ton JS Hyuga, the lead ship of the Hyuga-class of helicopter carriers; the Takanami-class guided-missile/ASW destroyer JS Suzunami; the Akizuki-class guided-missile destroyer JS Fuyuzuki; and a diesel-electric attack submarine, as well as one Kawasaki P-1 maritime patrol aircraft.
The Malabar naval exercise began as a joint Indo-U.S. naval exercise in 1992. Following a suspension from 1998 to 2002 as a result of India's nuclear weapons tests in 1998, the naval drill has been held every year. Japan became a permanent participant in 2015. This year, India once again refused Australia's bid to take part in the 2018 iteration of the exercise.