Japan Has an Iran Decision to Make
Japan will have to choose how to respond to U.S. demands to cut off Iranian oil imports.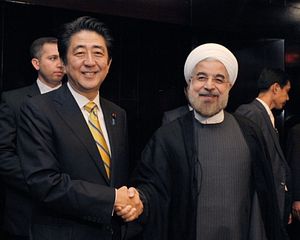 Since President Donald Trump arbitrarily pulled the United States out of the historical Joint Comprehensive Plan of Action (JCPOA) last month, he has steadily enacted his plan to squeeze Iran's economic lifeline – even at the cost of good relations with Washington's Asian allies. The United States is now pressuring its allies to cut all Iranian oil imports to "zero" by November 4 – above and beyond the "significant reductions" it had said it wanted earlier.
Japan's Fuji Oil Co., which will not make a final decision until after discussions with the government and other refineries, will likely replace Iranian shipments with shipments from Saudi Arabia, Qatar, and the United Arab Emirates if it has to. JXTG Holdings Inc., a refiner, plans to follow government guidance, and if necessary will replace Iranian supplies with supplies from the Middle East, West Africa, and possibly the United States.
The Japanese government's negotiations with Washington are ongoing as of June 27. In a news conference on Wednesday, Japan's Chief Cabinet Secretary Yoshihide Suga declined to go into details of the negotiations, but remarked, "We are watching carefully the impact that the U.S. measure would cause, and we would like to negotiate with countries involved including the United States so as not to have an adverse impact on Japanese firms."
Before U.S. sanctions were enacted by the Obama administration in 2011, Japan imported about 9 percent of its crude oil from Iran; in 2017, that figure had dropped to 5 percent. Supplying 10 million kiloliters in 2017, Iran was Japan's sixth largest supplier of crude oil. Due to Japan's energy dependency – and the fact that Iran is believed to hold the world's fourth largest crude oil reserves – Japan has always striven strenuously to maintain good ties with Tehran, even during times of tension between Iran and the Western powers.
According to unnamed sources cited by Kyodo News on June 21, Japanese Prime Minister Shinzo Abe is considering going to Iran for talks with President Hassan Rouhani in July.
Last Friday, Takashi Tsukioka, chairman of the Petroleum Association of Japan and concurrently chairman of refiner Idemitsu Kosan Co., speculates that Japan will decide the fate of its Iranian oil imports around early August, waiting to see how other nations react – in particular, China, India, and South Korea.
Since July 2015, when the Obama administration signed the JCPOA – along with Iran, China, France, Germany, Russia, the United Kingdom, and the European Union – China, India, South Korea, Japan, and France have become the top five export destinations of Iranian goods. Even though Japan was not a signatory to the JCPOA, Tokyo moved eagerly to take advantage of the opportunity presented by the economic opening. But now, the Trump administration wants countries that were not even signatories to the deal to adhere to U.S. demands.
As reported by U.S. News, an anonymous State Department official said of U.S. allies, "We're asking them to make a policy change. The reason they are willing to do that in my view is because of their relationship with us. And I think they genuinely understand that the secretary and the White House aren't kidding about this."
While the audacity may be astounding, sadly, it is hardly surprising. Japan decided not to vocalize its support for the JCPOA during a critical time, after all. Furthermore, this is a U.S. administration that, two years into its tenure, has yet to grasp the "inter" part of international relations. Though there is no obvious economic benefit to Trump personally from pulling out of the JCPOA, for a president who only understands diplomacy denominated in dollar signs, throwing allies under the bus may be a cheap price to pay to settle an old score with an already retired foe.