The 2018 Shangri-La Dialogue: Probing the 'Indo-Pacific' and Deterring the Fait Accompli
Familiar themes and new anxieties were apparent at Asia's premier security dialogue in 2018.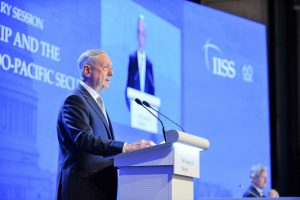 I had the good fortune to spend the last few days in Singapore with senior defense officials, analysts, and Asia-watchers from the world over at the annual Shangri-La Dialogue. Hosted by the International Institute for Strategic Studies, the gathering provides an unparalleled opportunity to get a sense of regional states' strategic priorities and anxieties.
This year's dialogue saw familiar themes dominate, including concern about the future of the rules-based order in Asia, countering terrorism, and, unsurprisingly, exceptional interest in the Korean Peninsula. This year's Dialogue convened with just more than one week to go before U.S. President Donald Trump and North Korean leader Kim Jong-un are scheduled to meet in Singapore.
In addition to the familiar themes and challenges, this year had more to offer. This was the first Shangri-La Dialogue to take place since the United States, India, Japan, and Australia — the so-called "Quad" group — began emphasizing the "Indo-Pacific" as a new cohesive strategic space. Even as someone who spends much of his time these days closely watching the Korean Peninsula, I was pleased to see that even with just 10 days to go before the Trump-Kim summit, the Dialogue retained its broad agenda, probing everything from the future of stability in Myanmar's Rakhine state to the effect of new strategic technologies on militaries in Asia and the future of counterterrorism in Southeast Asia one year after the siege of Marawi City in the Philippines.
Much more so than in 2017, the Indian Ocean loomed large over this Shangri-La Dialogue, which began with a keynote address from Indian Prime Minister Narendra Modi. Among other messages, Modi made the case for why India was indispensable to the security of the Indian Ocean. (This year's dialogue also came just days after U.S. Pacific Command was rechristened U.S. Indo-Pacific Command.)
Across several sideline conversations at the dialogue this year, governmental and nongovernmental delegates alike probed the utility of the Indo-Pacific. Depending on the interlocutor, the concept was either reduced to a mere geographical descriptor in search of a strategic purpose or the call-sign of an emerging concert of democracies, led by the United States and Asia's major regional powers. Modi, for his part, sought to clarify that India saw the Indo-Pacific as primarily a geographic domain — a "natural region," to India at least. Modi added that this region was ultimately multipolar as well, contesting the idea that either China or the United States could be the one regional hegemon.
As with recent Shangri-La Dialogues, concerns over China's behavior in the South China Sea persisted. The Chinese delegation, like last year, was represented at a lower level than many of the other participating states. In 2017, China had justified its lower-level representation at the Dialogue because of the then-impending 19th Party Congress and suspended its own security dialogue, the Xiangshan Forum, to emphasize that Beijing was not intending to overshadow Shangri-La.
To date, China has sent its minister of defense to the Dialogue just once and now appears unlikely to upgrade its presence at Shangri-La. The Chinese delegates that did attend this year dutifully defended Beijing's position on the South China Sea and accused the U.S. Navy of militarization, but there's a sense that, for China, the Shangri-La Dialogue will fade in importance as a forum. That would certainly be a shame, but there's a growing sense that Beijing increasingly perceives the forum as nothing more than an opportunity for U.S. allies and partners to spotlight its rule-breaking behavior in the region.
Those Chinese officials that were at the dialogue did make an attempt to defend China's views. People's Liberation Army Lieutenant General He Lei, at one session, told attending delegates to not believe the "rumors" that China had started militarizing features in the Spratly group. In another eyebrow-raising moment, the PLA general told attendees that as he came up on his retirement from a career in military service, his one regret was that he did not get to participate in a war, arguably because China was "so peaceful."
He's reception at the dialogue this year contrasts sharply with that afforded to U.S. Secretary of Defense Jim Mattis. Mattis came better prepared to Shangri-La this year and was considerably more at ease with the audience question-and-answer session during his plenary address. Last year, Mattis had famously told Shangri-La attendees to "bear with us," acknowledging the heightened regional anxieties as the Trump administration was unfurling what exactly its "America First" foreign policy would mean in the region.
This year, Mattis performed adeptly at reassuring U.S. partners and allies. Both he and Modi took the Dialogue as an opportunity to unambiguously state their support for the principle of the centrality of the Association of Southeast Asian Nations (ASEAN) amid the rollout of their respective Indo-Pacific strategies.
Finally, as expected, Mattis' delivered a strong rebuke of China's militarization of features in the South China Sea, highlighting China's "deployment of anti-ship missiles, surface-to-air missiles, electronic jammers, and more recently, the landing of bomber aircraft at Woody Island."
"The United States will continue to pursue a constructive, results-oriented relationship with China, [and] cooperation whenever possible will be the name of the game, and competing vigorously where we must," he said. His approach to China demonstrated that the vision outlined in the January 2018 U.S. National Defense Strategy was beginning to take effect.
Across the Dialogue, like in previous years, multiple senior defense officials, including the defense ministers of France, the United Kingdom, and Germany, emphasized support for the rules-based order in Asia, making clear that rule-breaking must bear costs. "We must make clear that nations need to play by rules and there are consequences for not doing so," said the United Kingdom's minister of state for defense, Gavin Williamson.
Even where China wasn't named directly, it was apparent that Western officials sought to make their displeasure with Chinese behavior clear. But despite the keen interest in imposing costs, no official — at least publicly — offered a compelling theory of how to do so. On the sidelines, while many attendees from U.S. allied and partnered states support the recent U.S. decision to disinvite China from this year's RIMPAC military exercises, they also broadly agreed that this alone would be an insufficient cost to condition Chinese behavior.
And that's perhaps the major takeaway from this year's Shangri-La Dialogue, which took place at what appears to be an inflection point in how the Trump administration will begin to challenge China's militarization of features and other rule-breaking behavior in the region. Deterring the slow and steady fait accompli, regional states have learned, is easier said than done.