The Future of Philippine Military Modernization Under Duterte: What's on the Second Horizon?
A look at what lies ahead in the coming years on this front.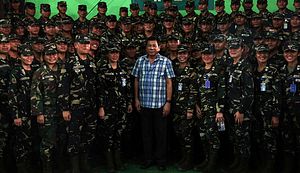 This week, the government of Philippine President Rodrigo Duterte moved toward allotting funding for the next phase of the country's ongoing military modernization program. While plans have been long in the works and changes can continue to be expected along the way, the development nonetheless provides an opportunity to evaluate where Manila is with respect to key capabilities and where it might be headed over the next few years.
As I have noted before in these pages, Philippine defense modernization had been laid out in the Revised Armed Forces of the Philippines Modernization Program (RAFPMP), divided into three phases or horizons: the first lasting from 2013 to 2017, the second lasting from 2018 to 2022, and the third from 2023 to 2027. As Duterte took office, observers were looking to see how his time in office would affect the longer-term trajectory of that modernization process not just in terms of the aggregate level of spending, but also what security challenges and equipment would be prioritized (See: "What's Next For Philippine Military Modernization Under Duterte?").
Last week, we saw another round of headlines surrounding the Second Horizon of Philippine military modernization. On June 20, reports surfaced following defense department spokesperson Arsenio Andolong's comment that the Duterte government had allocated roughly 300 billion pesos ($5.6 billion) for this phase of military modernization as an initial amount pending budgetary review and negotiation.
The news itself is not surprising. Reports had emerged last year as well about the Duterte's government's plans for the Second Horizon, including potential changes that could be made in terms of prioritization of challenges and procurement of equipment. The confirmation of funding thus represents a continuation of an ongoing and expected process.
And despite the focus on the fact that this was a robust amount of funding, the reality is that any aggregate level of funding also leaves the real questions unanswered. One is what will actually be procured with that funding. As is typical with these phases, the crux of military modernization will come not with the funding levels approved, but how the AFP reconciles its ideal shopping list with the actual amount provided and how it then sequences and prioritizes acquisitions.
We already do have a sense of the key items originally on the wish list for military modernization, including multirole fighters, helicopters, and long-range patrol aircraft for the Air Force; frigates, corvettes, and submarines for the Navy; and multiple launch rocket systems, weaponry, and night-fighting equipment for the Army. But as we have seen in the past, this list has tended to be changed over time, whether that means reducing the number of certain equipment bought or postponing other acquisitions and even fast-tracking others. One example in this respect is submarines, an expensive item which was initially slated for the Third Horizon but could now be procured under the Second Horizon. (See: "Will the Philippines Ever Realize its Submarines Dream?").
Another question is how what is actually being budgeted and procured actually affects the bigger picture of Philippine defense modernization more generally. While the process of military modernization was intended to ideally see Manila transition from internal security operations to territorial defense, that has been slowed somewhat by both the new administration's own focus on internal priorities like counterinsurgency, alignment shifts in terms of defense partners, as well as periodic crises and structural challenges, most prominent of which was five-month siege of the southern city of Marawi by Islamic State-linked militants last May (See: "Battle for Marawi Deepens Philippine Military's Budget Challenge").
Though Philippine defense officials have at times been candid about the effects of these developments on the process of military modernization, the actual extent to which that is the case will become clear once we get more details in the coming months. While the headlines on Philippine military modernization may suggest it is a linear trajectory of improvement through a process neatly divided into phases, the reality has been far messier thus far and will likely continue to be so for the foreseeable future.