The Inter-Korean Thaw Is Changing How Young South Koreans See the North
After the Panmunjom Summit, South Korean youths have more positive views of Kim Jong-un, North Korea, and the peninsula's future.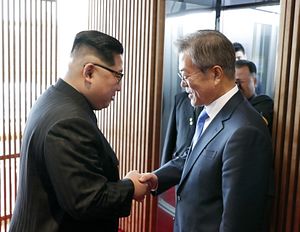 The second inter-Korean summit may have put the Trump-Kim summit back on track. After U.S. President Donald Trump's surprise announcement that he would withdraw from a planned meeting with North Korean leader Kim Jong-un, there was an unexpected meeting between Kim and South Korean President Moon Jae-in. This second Moon-Kim summit took place in a timely and flexible manner, suggesting that the trust and communication channels established at the inter-Korean summit are functioning.
Another important outcome of the Panmunjom summit has been its influence over public opinion in South Korea. Namely, the inter-Korean thaw has already started shaping South Korean perspectives toward the North, especially among people in their 20s and 30s.
South Korean youth have a unique frame of reference for North Korea. Unlike their grandparents, they did not experience the Korean War; unlike their parents, they have no memory of an impoverished country. Instead, they grew up after South Korea had achieved a high level of economic development, referred to as "the Miracle on the Han River," and established a democratic government. The youth also took a main role in the "candle revolution" that led to the impeachment of previous President Park Geun-hye. Unsurprisingly, the political and economic system of North Korea is completely foreign to them.
Unlike past generations, young South Koreans do not feel a strong emotional connection to North Korea as "blood relations." Rather, they tend to take a pragmatic approach. For example, when the South Korean government launched a unified woman's ice hockey team with North Korea for the PyeongChang Winter Olympics, Moon's approval rate among South Koreans in their 20s and 30s dropped sharply. The youth were frustrated because South Korean players were forced to sacrifice their time in the spotlight for the "greater cause" of unity.
During the inter-Korean summit, young South Koreans excitedly watched the event in real time and shared their comments and reaction through the internet. Young people are the most active internet users in South Korea, which has the highest internet speed and penetration rate in the world. During and after the summit, they made thousands of spontaneous reactions online.
Given these features of young South Koreans, the historical event at Panmunjom led to three major changes in their perception toward North Korea: Kim Jong-un was seen in a more favorable light; they had greater enthusiasm for North Korean culture; and they developed hopeful uncertainty about the future of the Korean Peninsula.
Changing Perceptions of Kim Jong-un
The live-broadcasted inter-Korean summit shifted young South Koreans' image of Kim Jong-un from a caricature to a leader. That day, Kim, unfiltered through North Korean propaganda, seemed far from a brutal dictator. His jokes and smiles during 12 hours of meeting with Moon created a disconnect from his past reputation.
Young South Koreans' perception toward Kim and North Korea turned more favorable as a result. According to the survey of Kookmin university first year students, in their early 20s, after the summit talk, the number of students who had a positive image toward Kim increased from 4.7 percent to 48.3 percent while those viewing him negatively decreased from 87.7 percent to 25.8 percent.
Social media played an important role in this shifting perception of Kim Jong-un. Through the weekend of April 27-29, countless video clips and pictures about Kim were posted and shared online. Video clips titled "Kim's humor causing howls of laughter at talks" and "The two leader's show of eating Pyongyang naengmyeon" got 1.15 million and 2.05 million hits on YouTube, respectively, in a period of three weeks after the summit. On Twitter, parody posts of Kim's jokes about bringing Pyongyang naengmyeon (a North Korean noodle dish) for the summit banquet received thousands of "likes."
Increasing Interest in North Korean Culture
The Panmunjom summit also aroused young South Koreans' enthusiasm toward North Korean culture, especially food. The dinner menu for the summit caught domestic and international attention. The scene of two Korean leaders eating Pyongyang naengmyeon was especially popular among young South Koreans and it quickly became a national topic of conversation.
According to research by Shinhan Credit Cards, sales of Pyongyang naengmeon jumped rapidly in the immediate aftermath, recording 80 percent higher revenue compared to the average during the previous four-week period. Among customers in their 20s, who usually eat Pyongyang naengmeon the least, there was a 99 percent increase in consumption from last year, overwhelming the rate of increase among all other age groups. Plus, a one-minute video clip on "How to enjoy genuine Pyongyang naengmyeon," an interview with a North Korean defector chef, went viral on YouTube, with more than 580,000 views in three weeks.
Starting from there, South Koreans started to explore more of the North Korean lifestyle. Their enthusiasm toward Pyongyang naengmyeon extended to other North Korean foods like "tofu rice" as well as more diverse aspects of North Korean culture like interior design and popular cosmetics.
The Korea summit opened a new opportunity for young South Koreans to update their old-fashioned image of a North Korea that is stuck in poverty. They started to get to know North Korea beyond the usual topics of the military and politics, getting familiar with North Koreans' contemporary lifestyle and culture.
Rising Expectations for a Peaceful Korean Peninsula
Finally, after the inter-Korean summit, the expectation for peace on the Korea Peninsula among young South Koreans begun to soar. In addition to the denuclearization issue, the discussion at the inter-Korean summit about announcing an end to Korean War made the youth feel optimistically excited about a better future for the peninsula. For example, many young males in South Korea are confused whether they would still need to complete mandatory military service if a peace treaty is signed. Inquiries and petitions to make military service voluntary have been submitted to Military Manpower Administration and Blue House.
That said, according to research conducted by the Institute for Peace and Unification Studies (IPUS) of Seoul National University, 41.4 percent of young South Koreans still see Korean reunification as unnecessary. They know that the current political climate could easily change depending on the results of the Trump-Kim summit. However, the inter-Korean summit got young South Koreans to think that peace is possible. Even a few months ago, with sharply increasing military tensions in Korea Peninsula, few could have foreseen this change.
Most attention has been focused on the political calculation after the inter-Korean summit. But the Moon-Kim summit itself marked a historic moment in terms of young South Koreans' newly shaped attitude toward North Korea's leader, growing interest in North Korean life, and hope for the Korean Peninsula's bright future. As Pyongyang synchronized its time zone with Seoul after the Panmunjom summit to "step forward to the conciliatory and harmonized relationships of two Koreas," there was a palpable sense that the unfamiliarity and distance between the two Koreas' people could be narrowed.
However, these changes will not persist unless the contact continues and the trust-building process between North and South is stable and durable. More steps are necessary — and may be difficult to achieve. On May 16, North Korea abruptly cancelled a high-level talk with South Korea, which was scheduled to construct a roadmap to carry out follow-up measures of the Panmunjom Declaration such as opening a joint liaison office and the reunion of separated families. The last-minute decision implies that inter-Korean goodwill is not yet on stable ground.
The outcome of the Trump-Kim summit could have a significant impact on the changing public opinion discussed above. A successful summit could lead to a formal end of the Korean War or trilateral diplomacy involving Trump, Moon, and Kim. Such steps would allow these early changes in public opinion to take root and grow.
Hyewon Kim is an Asan Academy Young Fellow (2017-2018) and a student at Korea University.
Minhee Jo is an Asan Academy Young Fellow (2017-2018) at the Center for the National Interest and a student at Pusan National University.