Where Is the New Ukraine-Thailand Military Facility?
Though little progress has been made to date, the idea continues to be in conversations by both sides.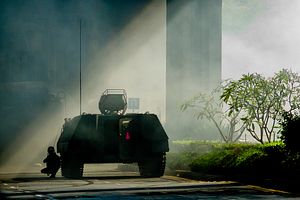 Last week, Thailand's deputy defense minister was on a visit to Ukraine. The trip saw Bangkok and Kiev discuss a range of issues within their security ties, including the previously mulled idea of opening up a joint military facility in Thailand.
As I have noted before in these pages, Thailand has been relying on a series of partners for its defense needs, and one of the relative newcomers in this regard has been Ukraine (See: "Where is the Ukraine-Thailand Military Tank Deal?"). Though the initial focus was on a tank deal, in recent years both sides have been discussing the prospect of establishing a facility dedicated to the the maintenance, repair, and overhaul (MRO) of military vehicles in Thailand and joint production and technology transfer to Thai enterprises.
Last week, cooperation in this realm was in the headlines yet again with the visit of Thailand's Deputy Defense Minister Chai Changmongkol to Ukraine. The visit, which lasted from June 13 to 16, saw Chai hold talks at Ukraine's defense ministry, meet with several defense officials, and visit certain Ukrainian defense facilities.
During the visit, Oleg Hladkovskiy, the first deputy to the secretary of the National Security and Defense Council in Ukraine, also once again emphasized that Ukraine stood ready to jointly open a military facility in Thailand to support defense production. According to a statement by the National Security and Defense Council, Hladkovskiy said that in addition to the fact that Kiev had proven itself as a reliable supplier of military production, such a facility would facilitate the proper maintenance and support of defense equipment and also further Thailand's own objective of developing its military industry with the possibility of transferring Ukrainian technologies.
No comments were publicly issued by the Thai side on the prospect of such a facility actually being set up. But as I have observed previously, Thai officials have been wary about the challenges that come with working with Ukraine on the defense side, and previous delays had led them to turn to other sources for their defense needs as well. Furthermore, Ukraine is also only one of several countries that the Thai government is in conversation with about setting up defense facilities (See: "What's With the New China-Thailand Military Facility?").
Apart from the facility itself, Hladkovskiy also said that Ukraine was willing to expand the range of military products to be made available to meet Thailand's requirements. Hladkovskiy said that in concert with that expansion, Ukraine "considers it expedient" to launch the Joint Ukrainian-Thai Commission on cooperation in the field of defense industry in order to facilitate the discussion of specific joint projects.
That comment was not followed by a publicly issued commitment by both sides. But if we do see movement on further projects, that could generate the kind of demand needed in the defense relationship to pave the way for momentum and progress on more ambitious ideas such as a dedicated joint defense facility in Thailand.