More China Tanks for Thailand?
Indications are that Bangkok will look to procure more tanks from Beijing in 2017.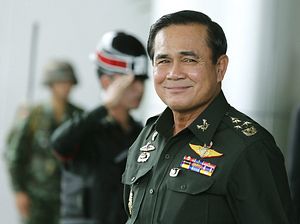 Military cooperation between China and Thailand, the oldest U.S. Asian ally, has deepened somewhat in the past few years amid a downturn in U.S.-Thai relations over rights concerns following the May 2014 coup (See: "China, Thailand Eye Deeper Defense Ties").
Since then, there have been some notable developments, including a first-ever joint air force exercise, planned purchases of equipment from tanks to submarines, as well as discussions about a joint military production facility to advance defense industry cooperation (See: "China, Thailand Mull Joint Military Production Facility").
Discussions on some of these fronts are expected to progress into 2017. For instance, on submarines, Thai officials have said that they expect a deal for the first boat to be struck by the end of this year, which I have explored separately (See: "When Are China's Submarines Coming to Thailand?").
There are indications that we could see some progress on tanks as well. Last week, General Chatudom Thittasiri, the deputy permanent secretary at Thailand's defense ministry, told Reuters that Thailand has set aside two billion baht ($57 million) over three years to buy ten tanks and auxiliary vehicles from China. Separately, The Bangkok Post also quoted the commander-in-chief of the RTA, Chalermchai Sittisat, as saying in early January that Thailand would look to purchase even more Chinese tanks in 2017, and perhaps even cut the number of tanks ordered from Ukraine.
Chatudom's comments do not come as a surprise. Thailand has been looking to replace U.S. M-41 tanks it bought from the United States in 1957. And it has experienced some problems with the delivery of T-84 Oplot tanks previously ordered from Ukraine, leading it to consider other alternatives as well (See: "Thailand, Ukraine Eye Deeper Defense Ties").
As part of that effort, last year the Royal Thai Army (RTA) formally signed a pact to buy the MBT-3000 main battle tank (or V-4) produced by China North Industries Corporation (NORINCO), making Thailand its first known export customer (See: "Thailand to Buy Battle Tanks from China"). The contract reportedly featured an initial 28 units valued at $150 million. But the RTA was expected to procure additional tanks to meet its requirement for up to 150 MBTs.
Exactly how many tanks Bangkok ends up buying from Beijing in 2017 remains to be seen. Estimates have run from the ten stated by the deputy permanent secretary all the way up to over 20 more. Nonetheless, it does suggest that Thailand continues to see China as one choice for its defense needs in spite of lingering concerns in some circles about what this means.