Will 'Flammable Ice' Be a Critical Factor in Asia's Regional Security?
As China, Japan, and others aim to commercialize methane hydrate, its security implications should be examined.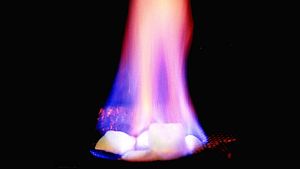 At the end of April 2018, the China Geological Survey, a state-owned research agency specializing in mineral resources, dispatched two research submersibles on a three-day mission to explore methane hydrate in a northern part of the South China Sea. The mission followed up on the nation's first discovery of an active gas hydrate deposit in that area in 2015. It is unclear how the two projects relate, but China also agreed to a $40 million contract in February 2018 with a Dutch engineering company to begin field research into flammable ice in the South China Sea sometime in mid-2018.
Methane hydrate, also known as "gas hydrate" or "flammable ice," is an ice-like substance composed of methane gas and water. In theory, as long as methane is separated from other compounds, it can be utilized as a good source of energy. In reality, however, the gas has proven very technically challenging to extract and find in nature. Gas hydrate deposits are often located either beneath permafrost or the sea floor. Proactive methane extraction can also lead to serious environmental impacts, for example climate change tied to the escape of methane, a greenhouse gas, into the atmosphere. Relatively low prices for conventional and shale oil and gas in the recent market have also made flammable ice less attractive because of its high short-term production costs.
Due to these challenges, industry experts expect large-scale commercialization of methane hydrate won't occur until at least 2030. Nevertheless, several Asia-Pacific countries, including China, Japan, the United States, and India, have actively invested in gas hydrate research that aims to utilize the substance as an energy source. While estimates of the global inventory of gas hydrate vary widely, global supply could exceed "the combined energy content of all other known fossil fuels," according to the U.S. Department of Energy.
While the potential and risks of methane hydrate have been frequently addressed in technical, environmental, and economic contexts, their discussion within the national security arena became more popular in recent years. In May 2017, China harvested methane gas from underwater deposits for the first time in its history in an area of the disputed South China Sea. According to a media report, no neighboring states have made a territorial claim on the specific waters involved, but experts speculate that further Chinese exploration in the South China Sea could make the other nations more nervous about China's intention. It's possible that some nations may enter a development race with China, but these countries will face difficulty in effectively expressing their presence because of limited technological capabilities.
Despite these concerns, China has accelerated the development of gas hydrate; the nation listed this development as key policy goal in its national 13th Five-Year Plan (2016-2020). In August 2017, the Ministry of Land and Resources of China, Guangdong province, and the state-owned China National Petroleum Corporation (CNPC) signed a strategic deal that launched a pilot project to search for methane hydrates in the South China Sea. In addition, to legally and politically support further activities, China's State Council added methane hydrate to its mineral resource list in November 2017. Chinese media even claims that continued success in methane hydrate development will energize China's well-known Belt and Road Initiative, as many of the initiative's partner countries have expressed intense interest in the substance.
Another pioneer in methane hydrate research, Japan became the first nation to successfully extract undersea methane in 2013 through a drilling test in the Pacific. Japan, which has struggled with limited natural resources and the aftermath of the nuclear power plant accident in March 2011, recognizes the crucial need to diversify its energy supply portfolio. The Japanese Ministry of Economy, Trade, and Industry recognizes flammable ice as an essential future energy resource. The nation also produced methane gas from the deposits beneath the Pacific in a second on-site test in 2017.
Nonetheless, Japan suspended production process in both 2013 and 2017 because sand clogged the gas extraction wells. This motivated the nation to modify its methane hydrate strategy and examine other approaches. One approach includes bilateral joint efforts with the United States and India. The two countries are (along with Japan and Australia) members of the informal strategic group of four democratic Indo-Pacific nations (the so-called Quad), and have long histories of exploring flammable ice. Japan shifted to full-fledged cooperation with the U.S. and India in 2018 to increase the cost effectiveness of the development. This collaboration will likely facilitate further cooperation among the Quad.
In addition, the Japanese government has sought gas hydrate not only in the Pacific Ocean, but also in the Sea of Japan. Two types of methane hydrate reserves were observed in the two bodies of water: a sand-layer type in the Pacific and a shallow type in the Sea of Japan. While the country has predominantly targeted the sand-layer type in the past, it has expressed newfound interest in the shallow type because experts believe that the shallow type's production will be less affected by sand. Japan's national government has already estimated a decent distribution of shallow type in the Sea of Japan and explored different extraction methods. Some experts presume that a fair amount of methane hydrate is also present in the disputed East China Sea, and already see it as a stimulus to tensions between China and Japan.
While the market has chiefly focused on methane hydrate production's technical feasibility, environmental safety, and market viability, it may be the time to seriously evaluate methane hydrate's potential impacts on Asia-Pacific regional security. Further efforts of powerful Asia-Pacific nations may lead to both closer relations and more complicated security dynamics in the region. Either way, as China, Japan, and other nations aim to commercialize methane hydrate production by 2030, notable developments surrounding flammable ice must be considered in the near future.
Mayuko Yatsu is Project Manager/Senior Research Analyst at Washington CORE, L.L.C., an independent research and consulting firm located in Bethesda, Maryland.