Will the Trump Administration Send a US Aircraft Carrier Through the Taiwan Strait?
The Trump administration may be setting the stage for a show of reassurance toward Taipei.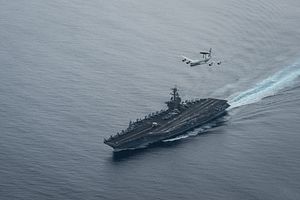 Earlier this week, a Reuters report, citing unnamed U.S. officials, noted that the Trump administration is considering "sending a warship through the Taiwan strait." The move would come at a time of intensified U.S. scrutiny of Chinese actions in the disputed South China Sea and would come after Washington disinvited China from the 2018 Rim of the Pacific exercise, staged the first known freedom of navigation operation near a disputed China-held feature in the South China Sea using more than one warship, and after U.S. Secretary of Defense Jim Mattis publicly rebuked Beijing's rule-breaking behavior in a speech in Singapore.
For Taiwan, the move would come as a welcome sign of the Trump administration's commitment to maintaining the cross-strait status quo. Over the last two years, the so-called "diplomatic truce" that prevailed between Beijing and Taipei for the duration of the Ma Ying-jeou-led Kuomintang administration has crumbled, with China gradually plucking away Taiwan's remaining diplomatic allies. In May 2018, both the Dominican Republic and Burkina Faso shifted their diplomatic recognition over to Beijing.
Since 1992, per the 'One China' principle—not to be conflated with the United States' 'One China' policy—both Taiwan and China acknowledge that there is but one country called China, but leave ambiguous the question of what that means. In diplomatic practice dating back further, states established formal diplomatic relations with either the People's Republic of China or the Republic of China, but not both.
The Reuters report suggests that there's an active menu of possible warship transits in the Taiwan Strait that are under consideration currently in the Department of Defense. That alone is not a surprise. Proponents of a close U.S.-Taiwan relationship have long called for a more active U.S. Navy presence in international waters in the Taiwan Strait and the U.S. has long maintained a range of plans for peacetime and wartime operations in the strategically vital waterway.
An amendment to the U.S. 2018 National Defense Authorization Act (NDAA) called on the White House to direct U.S. Navy ships to make port calls in Taiwan, a move that immediately drew sharp Chinese criticism. In response to that move, a senior Chinese diplomat told an audience in Washington, D.C., that any such port call would automatically trigger a Chinese military response. (The Taiwanese Ministry of National Defense had welcomed the prospect of U.S. Navy port calls.)
A transit through the Taiwan Strait by a U.S. warship, while irksome to China, would be lawful and have recent precedent. A U.S. Navy warship last transited the area in 2017. Reuters does note that one of the options under consideration is a transit by a U.S. carrier strike group—a considerably more significant sign of the United States' commitment to defend Taiwan. No U.S. aircraft carrier has transited the Taiwan Strait since 2007, under the George W. Bush administration. (Meanwhile, China only operational aircraft carrier, the Liaoning, has transited the Strait twice.)
The Trump administration may well consider directing a carrier strike group to transit the Taiwan Strait at this point. The administration is slowly but steadily making good on its National Security Strategy and National Defense Strategy, which identify China as a revisionist rival. Meanwhile, Trump is now being advised on national security affairs by John Bolton, a well-known proponent of Taiwan.
Writing in 2017 as a private citizen, Bolton called on the administration to rethink the United States' 'One China' policy, which grants diplomatic recognition to China while maintaining close relations with Taiwan pursuant to the Taiwan Relations Act. Among other proposals, Bolton even mooted "stationing military personnel and assets" there.
While rebuffing Douglas MacArthur's famous observation that the island of Taiwan could serve as an "unsinkable aircraft carrier," Bolton nonetheless added: "Taiwan's geographic location is closer to East Asia's mainland and the South China Sea than either Okinawa or Guam, giving U.S. forces greater flexibility for rapid deployment throughout the region should the need arise."
To date, despite the significant phone call to Taiwanese President Tsai Ing-wen during the 2016 presidential transition period and the authorization of a $1.4 billion package of arms sales, Trump has not taken dramatic action on Taiwan. A warship transit of the Taiwan Strait, while falling short of drawing a military response from China, would draw sharp Chinese criticism, but serve to reassure Taipei.
But even as Taiwan seeks reassurance from the United States—especially as its isolation on the world stage grows—it remains wary of the prospect of Trump using the destiny of Taiwan and its 24 million citizens as a bargaining chip with China. On a number of issues, ranging from North Korea to trade, Trump seeks leverage with Beijing and concessions on Taiwan may be alluring as part of a "grand bargain" between the United States and China.
None of this is assured to follow from a simple, lawful transit by a U.S. warship through the Taiwan Strait, of course, but the move alone would raise Taiwan's salience in the Trump administration's thinking about China, for better or for worse. Under this administration, what would once have been an unequivocally welcomed move of U.S. reassurance may end up a double-edged sword.