With North Korea, Let's Not Forget the Big Picture
Beyond denuclearization, making North Korea a 'normal state' should be the end goal.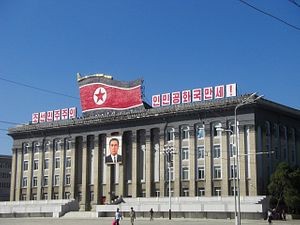 With the historic U.S.-North Korea summit on the immediate horizon, we must recognize that denuclearization will not and cannot be permanent or irreversible as long as there is a desire to reverse it. U.S. President Donald Trump may strike a "grand deal" with North Korean leader Kim Jong-un to denuclearize North Korea, but Kim can — and most likely will — reverse course at his convenience to construct new nuclear weapons. By focusing solely on denuclearization, we risk losing sight of the bigger, more important picture — that is, transforming North Korea into a normal state that no longer sees the need to pursue nuclearization for deterrence, survival, or any other reason.
Much of debate has centered on why Kim suddenly emerged from long-held silence to take the world's center stage through a series of summits. Was he pressured by toughened sanctions, as Trump credits himself for? Or was it an expression of Kim's confidence as a leader of a now de facto nuclear power, with more leverage for negotiation? Or has he simply been trying to buy time to avoid war — to get through the unpredictable and ruthless Trump's tenure as U.S. president? Yet, what really matters now is not so much the question of why Kim came to the table, but rather how we can make the latest détente sustainable without repeating the failures of the past. Will it be different this time?
With the Trump-Kim summit now back on the track after a 24-hour drama of cancellation then resumption, each side seems to have softened its stance by lowering the bar. Next week in Singapore, both leaders will be sorely tempted by clear political and economic interests to paint the meeting as a success. Real challenges, however, will arise as the logistical details of North Korea's denuclearization are discussed following the summit. The Trump team is unlikely to abandon its goal of the CVID (complete, verifiable, and irreversible denuclearization) of North Korea, while Kim and his men will stand firmly against this all-out approach so as not to follow the footsteps of Libya, Iraq, or Ukraine. North Korea has reportedly demanded a CVIG (complete, verifiable, and irreversible guarantee) of the security of the current regime, but there is a great danger that these deals, if made, will be nothing more than another sheet of paper full of empty words. The deep mistrust between the two countries cannot be overcome overnight, especially considering that both leaders have pretty bad track records of reneging on previous commitments. Neither CVID nor CVIG has much chance of being realized in the current context, from either a technical or a practical perspective.
With all this skepticism, why should we still bother playing this game with North Korea again? It is because we see a window of opportunity to guide North Korea into the international community through processes of diplomatic communication, exchange, and engagement. North Korea's summit diplomacy has revealed its desire to appear a normal state. Kim vigorously showcased four summit meetings  — twice each with China's Xi Jinping and South Korea's Moon Jae-in — and numerous high-level meetings, within two months, all within the parameters of conventional "state-to-state" relationships, departing from past practices. Standing side-by-side with the South Korean president to read out a joint declaration, immediately releasing news of Kim's summit meetings through its media, presenting Kim's wife, Ri Sol-ju, as the state's first lady — all of this would have been unthinkable in his father or grandfather's generation.
North Korea's latest efforts at international recognition as a normal state may be insincere and ill-intentioned, but even so, we should continue to allow North Korea and Kim to experience firsthand what it feels like and means to be treated as a normal state and a normal leader according to the ordinary conventions of international diplomacy. Although the goal seems so far away and unreachable, we should strive to normalize North Korea in all respects — its economy, its domestic and international politics, its integration into international institutions, and its adherence to international laws, norms, rights, duties, orders, etc.
CVID can still serve as a short- to mid-term goal, but not as a definitive solution to the long-standing North Korean threat. Whatever is decided at the upcoming summit, a more comprehensive roadmap should be set for enacting desirable transformations in security and economic relations with North Korea, putting the country on a path to become a stable and normal state increasingly integrated into the international community, where it would feel secure without a need for nuclear armament. As Trump says, he is starting a "process" of dealing with North Korea; the upcoming summit should be the beginning of an opportunity to advance this goal. After all, a normal North Korea can achieve CVID, but CVID cannot achieve a normal state.
Gi-Wook Shin is director of the Shorenstein Asia-Pacific Research Center at Stanford University, and Joyce Lee is a research professional in the Korea Program at the Shorenstein Asia-Pacific Research Center at Stanford University.