Are Warming Russia-South Korea Relations a Game-changer?
The recent thaw in South Korea-Russia relations is a potential game-changer for Moscow's Asia-Pacific strategy.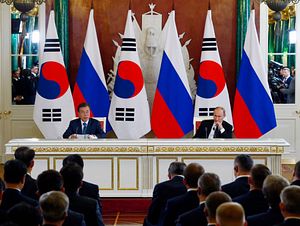 On June 21, 2018, South Korean President Moon Jae-in delivered an historic address at the Russian State Duma. During his address, Moon called for a sweeping expansion of economic ties with Russia and articulated his vision for trilateral cooperation between South Korea, North Korea, and Russia on the preservation of security in Northeast Asia.
While the implications of Moon's diplomatic outreach to Russia on the construction of liquefied natural gas (LNG) pipeline links and railways across the Korean Peninsula were the most widely discussed consequences of Moon's trip to Russia, the strengthening rapprochement between South Korea and Russia also has far-reaching consequences for regional diplomacy. Russian policymakers view a strengthened partnership with South Korea as integral to Moscow's aspirations of expanded influence in the Asia-Pacific region for three reasons.
First, a strengthened Russia-South Korea relationship increases the likelihood of expanded cooperation between Moscow and Seoul on the issue of denuclearizing North Korea. During Moon's visit, Moon and Putin released a joint statement highlighting their commitment to the "complete denuclearization of the Korean Peninsula." Both leaders also acknowledged the positive role of the Singapore summit between U.S. President Donald Trump and North Korean leader Kim Jong Un in facilitating the denuclearization process, and vowed to establish permanent stability in Northeast Asia.   
The Russian government viewed Moon's expression of solidarity with Putin as a major step forward in the Russia-South Korea rapprochement, as it combated the widely held view in South Korea that Russia is an enabler of North Korean aggression. Optimism in Moscow has also been amplified by the string of other positive statements from South Korean officials towards Russia in recent months. In late March, the Director of South Korea's National Security Office Chung Eui-yong praised Russia's constructive role in facilitating North Korea-South Korea dialogue. On June 1, South Korea's Vice Foreign Minister Lim Sung-nam urged Russia to play a larger role in peace negotiations on the Korean Peninsula.
While prospects for a return to multilateral dialogue on North Korea's nuclear program have temporarily receded, Russia could play an instrumental role in the implementation of an eventual denuclearization agreement. Lyle Goldstein recently argued in The National Interest that a strengthened Russia-South Korea relationship could result in Moscow acting as a safeguard of a nuclear deal with North Korea, by inspecting North Korean nuclear facilities and shipping nuclear weapons across the Yalu River. As Kim Jong Un views Russia as a trusted partner, Moscow could leverage its strong relationship with Pyongyang to gain South Korea's endorsement as an enforcer of the denuclearization process.
Second, Russia views an improved relationship with South Korea as a major step towards achieving its goal of becoming a "third partner" in trade and security relations with the Asia-Pacific region. Since Putin returned as president in 2012, Russia has reached out to U.S. partners in the Asia-Pacific region, like Vietnam, Thailand, and the Philippines, to sell itself as neutral alternative economic and security partner for Southeast Asia. While Moscow's outreach efforts to Southeast Asia has reaped some dividends, Russian diplomats have historically had a more difficult time engaging with Washington's two main allies in Northeast Asia: South Korea and Japan.
From Russia's perspective, the recent thaw in South Korea-Russia relations is a potential game-changer for Moscow's Asia-Pacific strategy. If South Korean investment in Russia increases substantially and Russia can fulfill its goals of acting as a bridge between Pyongyang and Seoul, Russian policymakers believe that Japan could be tempted to ease tensions with Moscow over the Kuril Islands, and compete directly with South Korea and China for economic deals with Russia.
The prospect of Japan following South Korea's example by developing stronger relations with Moscow has increased in recent months. Japan's reluctance to condemn Russia over the Sergei Skripal poisoning and ongoing trade dispute with the United States have caused Moscow to make a rapprochement with Japan a higher foreign policy priority. Although Japan continues to impose sanctions against Russia over the 2014 annexation of Crimea, Russian officials view Tokyo as the G7's weakest link on sanctions, and believe that the prospect of investing in lucrative efforts to develop the Russian Far East could convince Japan to eventually soften its position on sanctions towards Russia.
Third, the establishment of strengthened diplomatic relations between Russia and South Korea increases the prospect of constructive U.S.-Russia cooperation on Asia-Pacific security. Although North Korea did not feature prominently on the agenda of the July 16 Helsinki summit, Trump has previously stated that Russia could help the United States resolve the North Korea crisis. While the United States continues to criticize Russia for its violation of energy-related sanctions against North Korea, Kremlin policymakers believe that Seoul's warmer attitude towards Moscow could ultimately convince Washington to engage with Russia on the North Korean crisis.
As Elizabeth Economy noted in recent article for the Council of Foreign Relations (CFR), U.S. officials view the strengthening Russia-South Korea partnership with trepidation, as Moscow has lobbied Seoul to detach itself from US-led security initiatives and fueled opposition towards the Terminal High Altitude Area Defense (THAAD) missile system. In order to prevent South Korea from resisting U.S. policies in the Asia-Pacific region, U.S. officials could view trilateral cooperation with Seoul and Moscow on collective security issues as a useful containment mechanism. Any move toward a U.S.-Russia dialogue on Northeast Asian security would be well-received in Moscow, as it would highlight Russia's international status in a region that has been typically viewed as lying within the spheres of influence of China and the United States.  
While the longevity of Russia's rapprochement with South Korea remains unclear, Moon's outreach to Putin could have profound implications for the diplomatic balance in Northeast Asia. If Russia can leverage its improved relationship with Seoul to gain a more active role in the North Korea denuclearization process, establish cooperation links with the United States, and expand its network of Asia-Pacific partners, Moscow's case for being a world power will strengthen considerably in the years to come.  
Samuel Ramani is a DPhil candidate in International Relations at St. Antony's College, University of Oxford. He is also a contributor to the Washington Post and The National Interest. He can be followed on Twitter at samramani2 and on Facebook at Samuel Ramani.