Australian Air Force's New Sub-Hunting Plane Fires First Harpoon Missile
An RAAF P-8A Poseidon fired its first Harpoon anti-ship missile during this year's RIMPAC maritime exercise.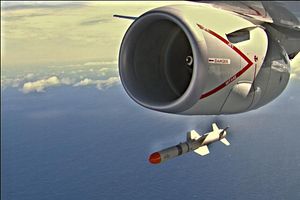 A Royal Australian Air Force (RAAF) Boeing P-8A Poseidon maritime patrol aircraft fired its first ATM-84J Harpoon medium-range anti-ship/land-attack missile during this year's multinational Rim of the Pacific (RIMPAC) maritime exercise, bringing the P-8A closer to achieving full operational capability, the Australian Department of Defense (DoD) said in a statement.
The Harpoon, an all-weather, over-the-horizon, sea-skimming anti-ship/land-attack missile, was launched from the P-8A at the Pacific Missile Range Facility, off the coast of Hawaii, on July 12 as part of a so-called SINKEX (Sinking Exercise). According to the Australian DoD, the Harpoon "successfully struck its target": USS Racine (LST-1191), a decommissioned Newport-class Landing Ship, which was placed 55 nautical miles north of the Hawaiian island of Kauai.
"The successful launch of the Harpoon requires a significant effort from a range of specialist personnel," Australian Minister of Defense Marise Payne said in a statement. "Our partnership with the United States Navy has allowed us access to the Range Facility, a long standing agreement which has seen the successful testing of many Australian Defense Force weapons systems across both Air Force and Navy."
The SINKEX was part of RIMPAC 2018, the world's largest international maritime military exercise held biennially in Hawaii and Southern California. This year saw 25 nations participating.
The RAAF is expected to receive a total of 15 P-8A Poseidon aircraft in two tranches. The service currently operates four P-8A aircraft with the remaining 11 aircraft slated to be delivered by March 2020. "Initial operating capability (IOC) for the eight aircraft of the first tranche is scheduled for the period 2017-2020, with full operating capability (FOC) by 2021," I reported elsewhere.
Total cost for the first eight P-8A Poseidon is 4 billion Australian dollars (US$3.6 billion). The Australian government first announced its intention to procure P-8A aircraft in February 2014 as a replacement for the RAAF's 15 Lockheed AP-3C Orion maritime patrol aircraft currently in service. As I explained earlier this month:
The P-8A, the military variant of Boeing's Next-Generation 737-800 commercial aircraft, has been designed to replace the United States Navy's fleet of obsolete P-3 Orion aircraft. It is considered to be one of the world's most advanced anti-submarine warfare aircraft currently in service.

The P-8A, equipped with fitted with advanced sensors, including an APY-10 radar system, can carry several types of bombs, Raytheon Mark 54 lightweight torpedoes, mines, depth charges and can also launch air-to-surface missiles installed on the underwing hardpoints.
The RAAFs fleet of P-8A aircraft is currently stationed at RAAF Base Edinburgh, 35 kilometers north of Adelaide in South Australia. The aircraft constitute an "important part of Australia's future maritime patrol and response strategy," according to the service.