Challenges Ahead for Brunei's Military as It Marks 57 Years
Anniversary comes amid lingering challenges for the Southeast Asian state's defense.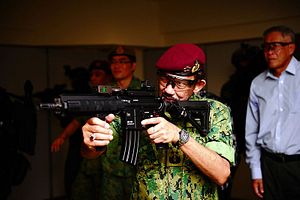 On July 1, Brunei finally held this year's iteration of an annual parade to mark the 57th anniversary of its military, the Royal Brunei Armed Forces (RBAF).
Brunei has made several inroads in its defense development over the past decade or two, including purchasing equipment such as helicopters and patrol vessels, constructing defense facilities, and strengthening partnerships with foreign militaries. But the reality is that despite a range of security challenges it needs to address, of late the small, oil-rich Southeast Asian state has struggled to fund its defense needs over the past few years due to broader economic challenges.
This year did see a double-digit increase in Brunei's defense budget. But as I noted in an analysis of that development, it ought to be kept in perspective considering the previous pattern we saw of large double-digit cuts followed by modest increases and a few creative budgetary reallocations and workarounds (See: "What's Behind Brunei's New Defense Budget Hike?").
One of the key occasions on the calendar for the Royal Brunei Armed Forces (RBAF) is the commemoration of its anniversary, which usually occurs on May 31. The anniversary celebrations usually witness a range of activities that spotlight Brunei's ongoing defense development, including displays of equipment and remarks given by Sultan Hassanal Bolkiah, who continues to retain the defense minister portfolio as well.
On July 1, this year's iteration of the celebrations was held at Penanjong Garrison, following an earlier postponement from the usual May 31 date in observance of Ramadan. The parade was attended by several top Brunei officials, including Bolkiah as well as the head of the RBAF and the second minister for defense, with earlier estimates suggesting that over 6,000 public attendees would be present as well.
According to Brunei's defense ministry, this year, the parade featured over 1,000 RBAF personnel from the various services. Developments included a live demonstration and static display of the capabilities from various units of the RBAF, a flypast by aircraft, a series of presentation ceremonies, and addresses including by Bolkiah himself on the state of Brunei's defense and opportunities and challenges therein.