What Did the Pakistan Army Chief's Brunei Voyage Achieve?
A closer look at the significance of a recent trip and what it means for bilateral defense ties.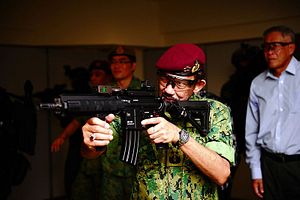 Late last month, Pakistan's army chief paid his introductory visit to Brunei as part of a wider regional trip. Though much of the focus was unsurprisingly on the army chief himself and the other legs of his visit, the Brunei trip was nonetheless significant in that it put the spotlight on a defense relationship that is otherwise not often in the headlines.
Pakistan and Brunei have long enjoyed close bilateral ties, with their status as Muslim-majority nations playing a role in the forging of the relationship and in the official rhetoric of both sides to this day. That relationship extends to the defense realm as well. Defense ties were formally codified with the signing of a memorandum of understanding (MoU) on defense cooperation back in 2004, and the relationship includes the usual components including visits, exchanges, and training, even though some of this often happens quite quietly and challenges have at times slowed the pace of ongoing collaboration.
These interactions have continued on into 2018. Indeed, just in early March, a delegation from the Pakistan Navy had visited Brunei as part of their study tour which had once again reinforced the ongoing defense relationship between the two sides. A more general review of ties had occurred at the 5th iteration of the Brunei-Pakistan Joint Defense Working Committee (JDWC) meeting that was hosted last November in Brunei.
From March 25 to 27, in another demonstration of this relationship, Pakistan's army chief General Qamar Javed Bajwa was on an introductory visit to Brunei as part of a wider regional trip. His three-day official visit, his first since taking his current position in late 2016, saw him meet with top Brunei officials including the deputy defense minister, the head of the Royal Brunei Armed Forces (RBAF), and Sultan Hassanal Bolkiah himself who also holds the defense minister portfolio. Bajwa's trip also included other engagements, including a banquet in his honor and a visit to the Royal Brunei Land Force (RBLF) headquarters.
During those meetings, both sides reviewed their existing defense cooperation and also discussed potential avenues to further strengthen defense ties. Brunei's defense ministry (MINDEF) unsurprisingly did not publicly disclose more in the way of specifics about what was being discussed, beyond noting in its official account that the trip's purpose was to further defense ties between the countries. But as we move through the year and more interactions, including the sixth JDWC meeting to be held in Pakistan, some of those specifics may become even clearer.