India's Chabahar Challenge Gets Serious
On Chabahar, New Delhi seems to be caught in a Catch-22 situation.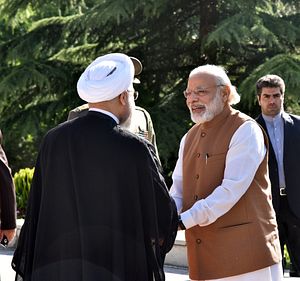 India's plans for the development of the Chabahar port in Iran seem to have run into some headwinds of late in the face of the Trump administration's tough stand on Iran. While New Delhi is planning to make the port of Chabahar operational by 2019, the recent visit to India by the U.S. ambassador to the United Nations, Nikki Haley, seems to have thrown a spanner in the works.
On Iran, New Delhi seems to be caught between the devil and the deep blue sea. While Washington has asked it to reduce oil imports from Iran, doing so may impinge on its ties with Iran. Though it is likely that New Delhi may not completely cut down on oil imports from Iran, it may reduce them in the light of its growing ties with the United States. It is noteworthy that Iran is the third biggest supplier of oil to New Delhi after Iraq and Saudi Arabia.
The deal to develop Chabahar port by India was announced during a historic visit by Indian Prime Minister Narendra Modi in May 2016. Modi had noted that New Delhi would be investing $500 million in the strategic port. During the visit of the Iranian president to India earlier this year, the Lease Contract for Shahid Beheshti Port-Phase 1 of Chabahar during Interim Period between Port and Maritime Organization (PMO), Iran and India Ports Global Limited (IPGL) was signed.
Why Chabahar matters for India
First, given the fact that Pakistan does not allow India overland transit rights through its territory, Chabahar is crucial for India's access to Afghanistan and beyond. India has a huge stake in Afghanistan and its stability and New Delhi is one of the biggest international donors in Afghanistan. The security situation in Afghanistan is a concern for India as in December 1999, the Taliban had hijacked an Indian airliner to Kandahar in Afghanistan and India had to release three terrorists in exchange for the hostages.
Second, given the fact that India has not joined the China-led Belt and Road Initiative due to concerns over sovereignty and transparency, Chabahar assumes great importance for India. Gwadar port in Pakistan (which is a part of the China-Pakistan Economic Corridor) is less than 100 kms away from Chabahar. Beijing has also been rapidly making inroads into India's neighborhood through its so-called "string of pearls strategy," which has seen it helping with port development in Gwadar (Pakistan), Hambantota (Sri Lanka), Chittagong (Bangladesh), and Kyaukpyu (Myanmar).
Third, access to Chabahar port is important for India's energy security. As a growing economy, India has been eyeing the energy-rich Central Asian countries. Natural gas from Central Asia could be exported to India via the Chabahar port. India is already a part of projects like the Turkmenistan, Afghanistan, Pakistan, and India (TAPI) pipeline.
Fourth, India is also a part of the International North-South Transport Corridor, which aims to move freight between India and countries like Iran, Armenia, Azerbaijan, the Central Asian countries and Russia. Hence, in India's scheme of things, Chabahar acquires critical importance.
Challenges ahead
However, there are a quite a few challenges for New Delhi.
First, progress in Chabahar may depend on which way relations develop between Iran and the United States. It is important to note here that India needs Washington's support on the international stage especially on issues like its membership bid in the NSG (Nuclear Suppliers' Group).
Second, relations with Iran will also require a delicate balancing act on the part of India given its own relations with countries like the United Arab Emirates and Saudi Arabia—also with countries like Israel, which has a fraught history with Iran.
Third, in case New Delhi cuts down on oil imports from Iran, it needs to find alternative sources from where to source oil. Already, consumers in India are feeling the pinch owing to rising oil prices and given the fact that India faces elections next year, the central government cannot overlook the political ramifications of rising oil prices.
Given its growing profile on the international stage, New Delhi will be called upon to take a decision on issues like its ties with Iran and it can no longer afford to sit on the fence. Hence, on Chabahar, New Delhi seems to be caught in a Catch-22 situation.
Dr Rupakjyoti Borah is with the Institute of South Asian Studies at the National University of Singapore (NUS). His recent book is The Elephant and the Samurai: Why Japan Can Trust India. He can be reached at [email protected] or on Twitter at @rupakj.