Indonesia-Singapore Navy Ties in Focus with Bilateral Visit
A visit by Singapore's navy chief spotlighted developments on the defense side of the relationship.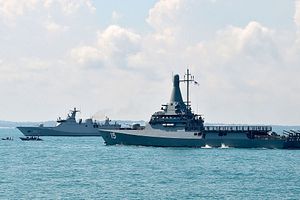 This week, Singapore's navy chief was in Indonesia for a visit. The trip, which saw a heavy focus on counterterrorism among other issues, put the spotlight on the development of defense relationships between the two countries.
As I have pointed out before in these pages, though the defense ties between Indonesia, Southeast Asia's largest state, and Singapore, the subregion's smallest, have tended to be prickly historically speaking, both sides still maintain a cordial security relationship that includes the usual components, including visits, exchanges, and exercises. This aspect of ties was in the spotlight last year as well within the context of the 50th anniversary of the Indonesia-Singapore relationship last year, with a case in point being the holding of a new counterterrorism exercise last November (See: "What's in the New Singapore-Indonesia Counterterrorism Exercise?").
The development of bilateral defense ties has continued on into 2018 as well, including on the naval side. For instance, in April, both navies held an intelligence exchange conference, which saw Indonesia's Assistant Security of the Navy Chief of Staff S. Irawan pay a visit to Singapore where he met with several officials including Singapore's navy chief Lew Chuen Hong. Maritime issues were in discussion as well in broader engagements as well between the two countries, including when Indonesian Defense Minister Ryamizard Ryacudu met with Singapore Defense Minister Ng Eng Hen in Singapore when he was attending this year's iteration of the Shangri-La Dialogue (SLD).
This week, the defense aspect of cooperation was in the spotlight again when Lew paid a visit to Indonesia. The trip saw him meet with several Indonesian officials including military chief Hadi Tjahjanto as well as the secretary general of the defense ministry, Hadiyan Sumintaadmadja.
According to a statement issued by Indonesia's defense ministry, the agenda items included issues including boosting further collaboration on countering threats in the Malacca Strait as well as contending with a range of transnational crimes and challenges including terrorism, piracy, and illegal fishing.
There was also discussion about ways to further enhance the bilateral relationship more generally as well. For instance, in the field of education, there was an expressed hope that exchanges could be further expanded to include not only more students, but also instructors as well including in areas such as science and technology.
No additional specifics were publicly unveiled following the trip by either side. Nonetheless, the development of the defense relationship in the area of terrorism as well as more generally will continue to be among the interesting angles to watch amid lingering concerns within the wider region as well.