Malaysia Counts the Costs of Its 1MDB Scandal
The new government's pursuit of justice is just beginning.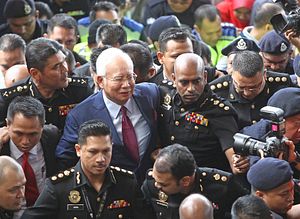 The bills racked up during the decade under Malaysia's former Prime Minister Najib Razak, now under arrest, continue to mount. Investigations into the colossal losses by the investment fund One Malaysia Development Berhad (1MDB) are spreading, amid efforts by the new government headed by 93-year-old Mahathir Mohamad to hold Najib's feet to the fire.
Justice for 1MDB is seen as a key ingredient in a recipe designed to put Malaysia back on track after a decade of greed and corruption at the highest levels under Najib, whose resounding defeat in May's elections marked a turning point for democracy at home and perhaps across the region.
Though corruption allegations tied to 1MDB had long dogged Najib during his tenure as prime minister, his ouster paved the way for his potential prosecution under the new government. For Najib, the son of Malaysia's second prime minister, his arrest marks a spectacular fall from grace less than two months after he was widely expected to win an election rigged in his favor.
Money, Death, and 1MDB
The 1MDB allegations swirling around Najib date back three years, when the Wall Street Journal first reported the story, with its missing $4.5 billion sparking worldwide investigations and reports that nearly $700 million had been transferred into Najib's personal bank account.
He insists the money was a donation from a Saudi royal.
Allegations of corruption, which he denies, date back much further. But Najib ignored calls for his resignation, preferring to introduce "fake news" legislation to counter media attention from abroad, and at home by a few independent news outlets that were often overwhelmed by Najib's friendly and always compliant gaggle of reporters and publishers. Despite his best efforts to tilt the playing field to his advantage, though, the United Malays National Organization (UMNO), which had effectively ruled since independence in 1957, went down in defeat at the polls.
"The arrest of Najib marks a new high point in the remarkably changed environment in Malaysia," said Keith Loveard, a risk analyst with Jakarta-based Concord Securities.
The lives of ordinary Malaysians stood in stark contrast to the extravagances of Najib's coterie, including first lady Rosmah Mansor who, like her husband, was barred from leaving the country following the elections.
Comparisons between Rosmah and former first lady of the Philippines Imelda Marcos – notorious for her lavish displays of wealth that drew the ire of segments of the local population – were well-earned. And given the sheer scale of her personal wealth and business ties with the political elite, she too will be busy with the courts.
Police recently seized expensive jewelry, a collection of luxury handbags – among other goods – and cash valued at more than $225 million from six properties linked to her family.
Additionally, her role, if any, in the 2002 acquisition of two French Scorpene submarines for $1.1 billion when her husband was defense minister needs to be fleshed out. Allegations of back-handers have made been in the French courts.
Complicating that are the alleged sexual innuendo and aspersions cast by the 2006 killing of Mongolian model Altantuya Shaariibu, who acted as a translator. Her death cast a long shadow over the Najib years. Altantuya was rarely spoken about publicly, but in the fashionable coffee shops of Kuala Lumpur, her fate was the source of much gossip and outrage. While pregnant, she was taken to a forest, shot twice, tied to a tree, strapped with C4 explosives, and blown up.
Whether police also reopen investigations into the killing of Deputy Public Prosecutor Kevin Morais, who was investigating 1MDB, remains to be seen. He was killed in 2015 after he was kidnapped, and his body was later found in a cement-filled oil drum dumped in a river.
Gavin Greenwood, an analyst with Hong Kong-based Allan & Associates, said Mahathir was seeking to build multiple cases against Najib and his UMNO allies.
"Notable," he said is "the reopening of the inquiry and likely trial or retrial of those alleged to be involved in the death of Altantuya Shaariibuu… this case is far more readily understandable to most people than the intricacies of the 1MDB scandal."
"It may also suit Mahathir's interests to ensure any legal action is as protracted as possible to ensure maximum coverage of the attendant allegations of corruption, fraud, and sexual impropriety," he said.
Meanwhile, the Economy
The new government has also made the case – and rightly so – that the 1MDB scandal is part of a broader concern about the country's underperforming economy, including its high debt levels, which can partly be addressed by recouping some of the lost funds.
According to the IMF, Malaysia's economy is showing resilience and is performing strongly, yet growth slowed slightly to 5.4 percent in the first quarter of this year after averaging 5.5 percent over the past eight years under Najib.
However, much of that was built on debt. Moody's Investors Service estimates the country's debt-to-GDP ratio is 50.8 percent — way above the median 40.1 percent for similar countries. Mahathir says that ratio is much higher, at 80 percent of GDP or a "staggering" $251 billion.
While analysts said the economic numbers that emerged under Najib were somewhat dubious, most agree Mahathir has inherited a slowing economy not helped by the 1MDB scandal or the ongoing investigations into the fund by half a dozen countries.
Mahathir, his born-again political alliance with former opposition leader Anwar Ibrahim – who is expected to eventually become prime minister – and a deteriorating economy marked by sharply rising prices and a new 6 percent goods and services tax (GST), all contributed to Najib's undoing.
But the impact of the 1MDB scandal ought not to be underestimated. And, going forward, the indications from the new government so far are that the pursuit of justice for those allegations is likely to continue, and that Najib's arrest is just the tip of the iceberg.