Pacific Island Solidarity: Papua New Guinea and Fiji
The PNG prime minister used his time in Fiji to reiterate that both countries have an essential role in providing regional leadership.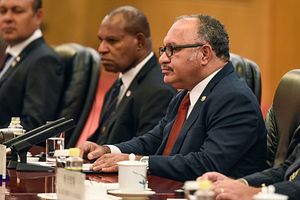 Last week Papua New Guinea (PNG) Prime Minister Peter O'Neill made an official visit to Fiji. As the two largest Pacific Island countries (depending on how you categorize New Zealand), the cooperation and leadership of both PNG and Fiji is vital to advancing the interests and concerns of the South Pacific as a whole.
It is through this lens that O'Neill gave two speeches of note while in the Fiji capital, Suva.
The first was to the Fijian Parliament, where O'Neill became only the second head of government invited for the honor, after India's Narendra Modi in 2014. While acknowledging the improvements that could be made to bilateral arrangements between the two states, including proposing a bilateral free trade agreement, O'Neill sought to stress that wider regional cooperation was essential in light of economic change and "increased tension and geopolitical competition."
Issues stemming from climate change remain most important for Pacific Island nations, and O'Neill spent considerable time reiterating the shared difficulties that PNG and Fiji face. The prime minister praised Fiji's continuing leadership and ongoing work with the COP23, and emphasized Pacific countries finding a common purpose with other developing states, signalling discussions held at the recent African, Caribbean, and Pacific Group of States meeting in Togo. O'Neill was also no doubt directing his comments toward a number of political actors in Australia when he bluntly stated, "Climate change is real — and it is hurting our people."
O'Neill also used his speech to acknowledge the shared interest both PNG and Fiji have in increased regional labor mobility. He indicated that this issue is not simply about generating remittances, but important for "brain circulation"; the ability of Pacific Islanders to obtain new skills and return to apply these in home countries, particularly in the areas of healthcare and education.
PNG will be hosting the APEC (Asia-Pacific Economic Cooperation) summit in November.  As the only Pacific Island country that is a member of APEC, O'Neill indicated that he saw PNG as a bridge between APEC and the Pacific Island countries, stressing that the agenda for the summit would be "of real relevance to developing economies." The overarching theme for APEC is "Harnessing Inclusive Opportunities, Embracing the Digital Future," and O'Neill stated that "this is all about improving connectivity for our people, promoting sustainable and inclusive growth, and enhancing structural reforms." The prime minister also highlighted that he would be inviting all leaders of the Pacific Island Forum (PIF) who are not also members of APEC to attend the event (Australia and New Zealand are members of both PIF and APEC).
At a second speech at the University of the South Pacific, O'Neill expanded upon this theme of Pacific Regionalism, making the case that multilateral organizations such as the Melanesian Spearhead Group (MSG), and the Pacific Island Forum (PIF), are essential mechanisms for advancing Pacific Island interests. He noted that Pacific Island countries are "often underestimated" within the global community; however, at the United Nations and a number of other global forums, as a bloc their votes become impactful. "[W]e can position ourselves in a strategic manner to draw attention from the international community," O'Neill argued.
Further expanding on this idea O'Neill stated, "We must also use our collective strengths in ensuring that the interests of our people are advanced in a manner that a lot of our governments and global leaders are aware of the issues that are affecting the Pacific. Our desire is to create more opportunities particularly in employment, encourage small to medium enterprises (SMEs) and confront the challenges of climate change."
O'Neill proposed that more advanced Pacific regionalism is just not an idea to be embraced by the region's governments, but needed to be understood in a holistic manner by "our business communities and more importantly our students and citizens who are advancing many of these issues through universities and other institutions throughout the Pacific."
As small states with considerable geographic and developmental hurdles, multilateral frameworks where collective concerns can be amplified are essential fora for Pacific Islands states. The PNG prime minister used his time in Fiji to reiterate that as two large Pacific Island countries PNG and Fiji have an essential role in providing leadership and solidarity on the region's essential concerns, and enhancing the region's cooperative architecture. Whether this approach can provide the necessary influence on its large, essential, but often deaf neighbor in Australia remains to be seen.