So What, It's Not Cricket? India Joins the Football Craze
The World Cup offers clues as to football's growing popularity in India.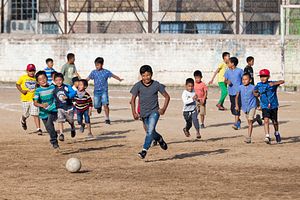 Football is a simple game. Twenty-two men chase a ball for 90 minutes while South Asia watches cricket.
South Asians also enjoy watching hockey, kabaddi, wrestling and many other sports as well. Why should we divide nations by assuming that, for instance, a country must be either football-loving or cricket-loving? Passion for cricket and football can go together and many Indians can probably attest to that. A recent visit to India yielded a view into the country's growing passion for football.
The Delhi pub was packed with people, mostly rooting for Brazil. It was June 22, the eighth day of the ongoing FIFA 2018 Football World Cup in Russia, and Brazil was playing against newcomers from Costa Rica. The beer-drinking crowd was dominated by Indians, though there were a few foreigners as well. TV screens were attached to nearly every wall, sometimes four of them next to each other, forming one large screen. It was impossible not to watch the games and yet I could sense that the atmosphere was different than in a European pub. Despite the dominance of the screens, people were not only watching but also talking a lot, apparently on matters unrelated to the game. Moreover, I did not feel the pressure of having to cheer a select team that one may experience in a European bar during the World Cup. Following a tradition of rooting for the underdog, a part of my heart was supporting Costa Rica. Though I was alone and I sat nearly surrounded by Brazil's fans, remaining silent and still when the pub exploded with emotions each time Brazil was about to score (and when it finally did, twice), nobody bothered me.
Was this a one-time observation which cannot be used as a trend indicator? Maybe. I would, however, have been able to provide depictions of even more passionate celebrations had I been watching the commencement of the championships from the south Indian state of Kerala. There, fans of Brazil and Argentina marched through some of the cities to display support for their beloved teams. The number of Indians who are watching the game from the Russian venues is certainly small when compared to the representatives other nations. Still, apart from some groups of Keralan funs, it is interesting to note the Scroll.in story about Chaitali and Pannalal Chatterjee, an elderly couple who went to Russia to watch their 10th world cup in a row. The Chatterjees, rather unsurprisingly, come from the state of West Bengal. Kerala and West Bengal are the two Indian states where the love for football runs strongest, followed by the Northeast region and Maharashtra.
Another, chanced upon inhabitant of West Bengal disagreed with me when I claimed that interest in football in India is growing, although he was on his way to Russia to watch Brazil play when I met him on the way to the Delhi airport. Can I, therefore, prove football's steadily rising popularity in India by using any kind of measuring rod or is it just my impression? I think I can point out to some indicators.
First of all, there is viewership data. According to information provided by the Sony Pictures Network India, over 100 million people in India watched the earlier world cup qualifiers (the data includes both Sony TV channels and streaming services). As for the ongoing World Cup, the first four matches alone earned Sony some 47 million spectators in India, breaking earlier records. After 26 matches, the number has crossed 117 million. This may not seem so much in a country of 1.2 billion people. Admittedly, one auxiliary factor could have been the time zone difference between Russia and India, which is not big (vast time zone differences provide a litmus test of sorts, as only hardcore fans will watch middle-of-the-night or before-dawn matches). Yet, at any rate, it is still a huge audience in absolute terms and a one which should make the eyes of many company owners glow.
Second, there is also growing interest in merchandise relating to football. Myntra, an e-commerce company, is advertising its offering of jerseys in Indian newspapers during the World Cup. The head of its sports items section recently claimed that the firm "witnessed a sharp spike in [the sale] of football-related products." Other e-commerce platforms have had similar experiences. Some of the most popular items include jerseys with Messi's, Neymar's and Ronaldo's names. Sales of balls themselves have been growing as well.
An aside about World Cup footballs: the professional balls used by the players during the FIFA World Cup in Russia have been, as usual, manufactured by India's neighbor, Pakistan.
Third, attendance is a strong indicator of interest as well. Two thousand fans awaited the Argentinian star Lionel Messi at the airport when he came to the capital of West Bengal, Kolkata, in 2011. The FIFA U-17 (under 17) World Cup of 2017 was organized in India and the games broke their previous attendance records with over 1.3 million stadium spectators. FIFA clearly senses an opportunity and a rising market and seems keen to arrange more football events in India.
Fourth, India's own professional football leagues may be modest in scale but their viewership is robust. The new Indian Super League, formed just a few years ago, so far consists of 10 teams. These include (or used to include) some well-known foreign players but these tend to be the fading stars, such as Roberto Carlos, Nicolas Anelka or Kalu Uche. At the same time, however, the first month of the 2017-2018 season the league experienced a TV viewership of over 84 million.
Media strategies also point out to a rising craze. The already-mentioned Sony, through its Indian channels, offers live match coverage from Russia not only in English but also in Malayalam, Bengali, Tamil, Telugu and Hindi (and I must admit watching some of the matches in India in Hindi has been a treat – the reporting was as professional as that provided in Europe). A sport-focused branch of an Indian Internet portal, Firstpost, provides live updates on Twitter of games in various sport disciplines, and this includes monitoring the World Cup as well. Another portal, The Wire, has sent its correspondent to Russia to write a series of articles on the social implications of the games. India's leading newspapers follow the games as well. Not long ago, even the country's Prime Minister, Narendra Modi, encouraged his countrymen to play more football.
To signal football's chances in India, let me put the game's viewership numbers in perspective. The 117 million spectators reported by Sony from India are still a minority in the world's second most populous country. But, by comparison, Poland is a country of 38 million people. The Polish national team — contrary to the Indian one — qualified for the tournament and played in its early stages. The Poland-Senegal match during the World Cup was reportedly watched by an average of 11 million Poles (with 18 million claimed as a peak). In India, the streaming services alone claimed 18 million spectators after the first 26 matches, not to speak of the TV audience. During the 2014 World Cup, the Germany-Argentina final match was watched by over 34 million spectators in Germany, a country of 82 million people. It would have to take the entire population of those two football-crazy European nations – Poland and Germany – to surpass the Indian viewership of the World Cup so far. This should be something that many companies take note of (and I assume they already have). Once money follows football into India, the game will be set to reach even higher levels of popularity in the South Asian republic.