Thailand's Navy to Get Five New Patrol Vessels
The RTN continues its longstanding effort to modernize its capabilities despite lingering challenges.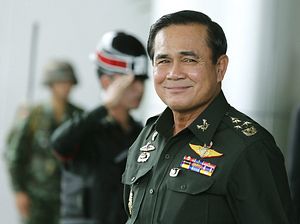 Last week, a local shipyard launched five new patrol vessels for Thailand's navy. The vessels represent yet another addition to Thailand's maritime capabilities as the Southeast Asian state looks to address a wide array of security challenges amid lingering constraints.
Over the past few years, the Royal Thai Navy has been looking to replace some of its older vessels and modernize its maritime capabilities as part of its wider defense plans (See: "What Does Thailand's 2019 Defense Budget Mean?"). As part of this ongoing process, the RTN has had several patrol vessels built and delivered from local shipyard Marsun Company Limited over the years, including M58 large patrol boats and smaller M21-class patrol boats.
As I have noted before in these pages, the M21-class patrol boats, per Marsun's specifications, are 21.4 meters long, with top speeds in excess of 30 knots, a range of 350 nautical miles, and an endurance of 24 hours. The M21-class patrol boats are generally meant for missions that include law enforcement at sea, preventing infiltration in sea or on shore, and protecting commercial and fishing boats, and Thai officials had previously said that they would be used to perform such functions like patrolling, protection and interception within the RTN's Coast Guard Squadron in surrounding waters in the Andaman Sea and the Gulf of Thailand.
Deliveries have continued over the past few years, with four more received in September 2017 and five more launched in February 2018. Previously, the intended delivery schedule as well as the number of vessels ordered has had to be postponed and changed for various reasons, including internal political developments in Thailand.
On July 24, five more new M21-class patrol boats were launched for the RTN. According to the RTN in a statement that was issued a day following the launch, the launch of the boats, which have pennant numbers 270 to 274, occurred at Marsun's facilities in the country's Samut Prakan province, with the ceremony presided over by the RTN's Commander-in-Chief Admiral Naris Pratoomsuwan.
Few additional details were publicly provided about the delivery and specifications beyond this. But as Thailand continues its defense modernization efforts, this will be one of the many fronts to watch with respect to the maritime component of that modernization.