US-Philippines Alliance: Security Cooperation in the Headlines with Terror Aid Boost
The recent round of assistance is yet another indicator that substantive defense cooperation continues to be advanced.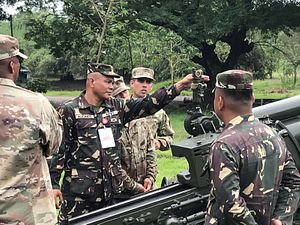 Last week, the United States unveiled the latest round of counterterrorism assistance to the Philippines. The move is yet another sign of the continuing opportunities that exist for bilateral cooperation between Washington and Manila despite the challenges the alliance has faced under Philippine President Rodrigo Duterte thus far.
As I have noted before in these pages, despite the challenges posed by the rise of Duterte, U.S.-Philippine defense cooperation has continued to advance in some areas (See: "US Terror Aid to Philippines Signals Enduring Defense Ties Under Duterte"). One of these is counterterrorism, which is no surprise considering the heightened threat posed by terror groups, most clearly manifested in the Philippine context with the siege of the southern city of Marawi last year (See: "ASEAN's Post-Marawi Islamic State Challenge").
We have seen a mix of activities in this area of the relationship over the course of the past year alone. And while the focus of the headlines is often on transfers of equipment, aid boosts, or even the approval of new exercises involving the Armed Forces of the Philippines (AFP), there are other significant engagements as well. For example, Washington has sought to build links with other institutions such as the Philippine National Police (PNP) on law enforcement issues, despite some rights concerns linked to the Duterte administration's policies.
On July 19, this aspect of the U.S.-Philippine alliance was in the spotlight again as the United States announced that it would contribute an additional round of funding to boost Philippine counterterrorism efforts. According to the U.S. Embassy in Manila, Washington would contribute 1.418 billion Philippine pesos ($26.5 million) over two years to boost counterterrorism support for Philippine law enforcement agencies.
The focus of the assistance, the statement said, was on "support for non-military rule of law approaches to addressing terrorist threats." That was a reference to Washington's continued emphasis on a comprehensive response to countering terrorism and violent extremism that does not only rely on military force. Continued concerns have been raised about the Duterte administration's law enforcement activities and their effects on democracy and human rights.
The coverage of the assistance will be wide-ranging, including training, equipment, and other support to build up law enforcement capacity to deny terrorist operations, funding, and movement; investigate and prosecute terrorism cases; and counter radicalization to violence and violent extremism. And though few specifics were disclosed in the statement itself, we will no doubt continue to see some of its manifestations as activities take shape in the months that follow.