Australia-Singapore Military Ties in Focus With Navy Chief Voyage
The visit by Australia's new navy chief put the focus on the security relationship between the two Asian states.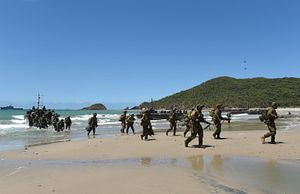 Last week, Australia's new navy chief paid his first visit to Singapore in his current capacity. The development put the focus on the ongoing defense relationship between the two Asian states, amid wider domestic and regional changes at play and a series of upcoming events within bilateral ties more specifically.
As I observed previously in these pages, Australia and Singapore have long had a strong defense relationship as part of their wider ties, which were elevated to the level of a comprehensive strategic partnership back in 2013. Beyond the usual components of defense ties such as intelligence sharing and exercises, both countries are longstanding members of the Five Power Defense Arrangements (FPDA) and Australia is among the key places where the Singapore military has conducted overseas training, which it considers critical for its development.
Over the past few years, the relationship has deepened still further. Notable developments have included not just the expansion of Singapore military facilities in Australia, which has occupied the lion's share of the headlines, but also other significant developments within defense ties such as the upgrading of existing military exercises and exchanges and the launch of new a new dialogue on regional and security issues (see: "The Enduring Strategic Logic of the New Australia-Singapore Military Training Deal").
Last week, the defense relationship was once again in the headlines with the visit of Australia's navy chief, Vice Admiral Michael Noonan, to Singapore. The trip, which lasted from August 15 to August 17, was Noonan's first trip to Singapore since he assumed his new position back in July, taking over from Vice Admiral Tim Barrett who had led the Royal Australian Navy (RAN) since July 2014.
Noonan's visit saw him meet with a range of Singapore officials, including Defense Minister Ng Eng Hen, Chief of Defense Force Lieutenant-General Melvyn Ong, and Chief of Navy Rear-Admiral Lew Chuen Hong.
Singapore's defense ministry said the meeting between Noonan and Ng discussed developments in the wider defense relationship, such as on regional maritime security, as well as in naval ties more specifically, including upcoming exercises Exercise Singaroo and Exercise Kakadu. As I have noted before in these pages, the regional component has been a relatively greater focus of discussion this year in such bilateral interactions with Singapore, given the fact that it is holding the annually rotating chairmanship of the Association of Southeast Asian Nations (ASEAN) regional grouping this year.
As part of his trip, Noonan also visited a series of defense institutions and viewed some of Singapore's defense equipment. He viewed the unmanned surface vessels that Singapore uses for countermeasure operations, and, at Changi Naval Base, he also visited the Changi Regional Humanitarian Assistance and Disaster Relief Coordination Center. He also delivered an address at the Goh Keng Swee Command and Staff College as well to round out his trip.