China-Malaysia Warship Deal in Focus with Construction Kickoff
A look at the progress of an old deal under new political realities.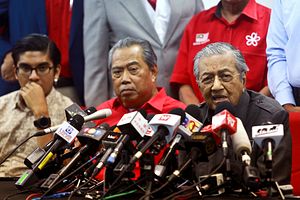 On July 31, reports surfaced that China had taken a further step towards the realization of a landmark warship deal with Malaysia. The move has once again put the spotlight on a key development within the evolving defense ties between the two countries following the entry of a new Malaysian government in May.
As I have highlighted before, though the defense component of the China-Malaysia relationship continues to face its share of challenges and has tended to lag significantly behind its other dimensions even after the inking of a memorandum of understanding (MoU) on defense cooperation in 2005, inroads have been made incrementally over the past few years in some areas like the establishment of regular consultative mechanisms, exercises, and even defense deals.
One of the deals that has been in the headlines a fair bit is the one reached under the previous government of Najib Razak in November 2016 where Malaysia had agreed to buy four littoral mission ships (LMS) from China (See: "Malaysia's New China Warships Deal: Promises and Prospects"). Under the deal, it was understood that Wuchang Shipbuilding would construct the first and second ships, while the third and fourth will be jointly built by Wuchang Shipbuilding and Malaysia's local shipbuilding company Boustead Naval Shipyard Sdn Bhd (BNSSB).
Since then, we have seen some further details disclosed, including at last year's iteration of Malaysia's biennial defense exhibition, the Langkawi International Maritime and Aerospace Exhibition (LIMA). However, with a new government coming to office led by former prime minister Mahathir Mohamad following an election held in May and a recalibration of certain aspects of ties between China and Malaysia, how the deal would actually progress in this new political reality remained to be seen (See: "What's Next for Malaysia-China Relations?").
On July 31, Wuchang Shipbuilding began construction of the first littoral mission ship (LMS) on order for the Royal Malaysian Navy (RMN). The step, formalized by a launching ceremony held at the Shuangliu base of Wuchang Shipbuilding, formally marked the beginning of the program's production phase.
In his remarks at the launching ceremony for the construction of the vessels, He Jiwu, the vice president of CSIC, was predictably upbeat about the project. According to Chinese state media, he framed the significance of the project in terms of its importance both for the development of Malaysia China defense ties and also for China's defense efforts in the region more generally.
The extent to which this will actually end up being the case will be contingent upon how the project actually progresses. For all the excitement around the deal itself and its progress thus far, it is still very much early days in a relationship that is itself still in its nascent stages.