Days After Tsai Ing-wen Wraps Up Houston Stopover, Taiwan Loses Another Ally to China
Cutting ties with Taiwan, the Republic of El Salvador established diplomatic relations with China.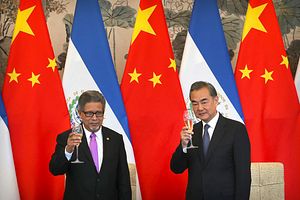 On August 21, the Republic of El Salvador, a small Central American nation, formally established diplomatic ties with the People's Republic of China (hereafter referred to as China) and, at the same time, ended its nearly two-decade relationship with the Republic of China (Taiwan) — leaving Taiwan with only 17 diplomatic allies now.
According to the Chinese foreign ministry's announcement, in the joint communique signed by both nations, El Salvador "recognizes that there is only one China in the world… Taiwan is an inalienable part of Chinese territory. The government of the Republic of El Salvador … promises not to have any official relations with Taiwan or to conduct any official exchanges. "
El Salvador's decision to officially cut ties with Taiwan came only two days after Taiwan's President Tsai Ing-wen wrapped up her high-profile stopover in the U.S. city of Houston. The loss of a diplomatic ally was Beijing's apparent attempt to get revenge on Tsai.
As The Diplomat has been following, Tsai just wrapped up a nine-day state visit to Taiwan's allies Paraguay and Belize last week. Belize, in particular, is only a 1.5-hour flight away from El Salvador. The fact that Tsai didn't include El Salvador during her latest trip had hinted that all was not well in the relationship.
Early on August 21, Taiwan's foreign ministry held a press conference to respond to the news. Foreign Minister Joseph Wu revealed more details on Taipei's lost diplomatic tussle with Beijing.
Wu said Taiwan had noted El Salvador's plan to establish relations with China early in June, but Taiwan failed to solve the crisis despite rounds of negotiations.
"We are not willing to continue with the money competition with China," Wu said. He revealed that El Salvador had been continuously asking for "massive funding support" since last year for a port project.
"Pressure from China would only make Taiwan more determined to continue our path of democracy and freedom," he added.
Yet China's latest pressure on Taiwan didn't come without warning.
Ahead and after her state visit to Paraguay and Belize, Tsai made two high-profile stopovers in the United States — in Los Angeles and then in Houston.
During her two-day stopover in Los Angeles, Tsai visited the Taipei Economic and Cultural Office's Culture Center, making her the first Taiwan president to visit an official institute during a U.S. stopover since 1979 when the two nations terminated official relations.
During her overnight stopover in Houston on August 19, Tsai paid a visit to the NASA's Johnson Space Center in Texas, again making her the first Taiwanese president to enter a U.S. federal building in an official capacity.
Her NASA visit, in particular, infuriated Beijing.
In response, Chinese foreign ministry spokesperson Lu Kang said at the regular press briefing on August 20 that China had made "solemn representations" to "relevant countries" over Tsai's "separatist activities."
Lu added:
[W]e have made clear our stern position to the U.S. side. We urge the U.S. to stick to the one-China principle and the three joint communiqués. The Taiwan separatist forces should not be aided nor have any space on the international stage. We firmly oppose any country that has diplomatic ties with China engaging in any official interaction with Taiwan.