Tsai Ing-wen Made a Rare, High-Profile Stopover in the US
As Beijing increases its pressure on Taipei, Tsai vows "to be firm so that no one can obliterate Taiwan."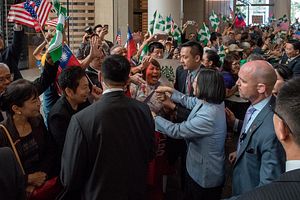 Ahead of her nine-day state visit to Taiwan's diplomatic allies Paraguay and Belize, Taiwan's President Tsai Ing-wen made a two-day stopover in the United States. It was her first stopover in the United States since U.S. President Donald Trump in March signed the Taiwan Travel Act, a law encouraging high-level officials of Taiwan to visit the United States and vice versa.
Faced with Beijing's increasingly intense pressure on Taipei since she came into office, Tsai, in a rare move, made her latest U.S. stopover more high-profile than normal.
Early on August 9, Tsai's administration had announced to the public the detailed schedule of her long trip. In addition, Tsai promised to open her whole trip, including the U.S. stopover, to the press.
Before her leaving Taipei for Los Angeles on August 12, Tsai made a public speech in front of cameras.
Admitting that Taiwan's diplomatic situation is "really difficult," she emphasized that Taiwan people will "go abroad against all odds."
"In going abroad, the whole world can see Taiwan; they can see our country as well as our support for democracy and freedom," Tsai said. "We only need to be firm so that no one can obliterate Taiwan's existence."
She also vowed to send a message through this trip to the world that "protecting Taiwan is to protect freedom and democratic values."
In the evening on the day she arrived in Los Angeles, Tsai addressed a banquet for Taiwanese-Americans, urging them to get united and make Taiwan strong, according to Taiwan's state-owned Central News Agency.
On August 13, she paid a visit to the Ronald Reagan Presidential Library outside of Los Angeles, where she made a public speech again.
Right in front of the exhibit of Berlin Wall, Tsai declared that anything can be negotiated except "our freedom and our future."
It's worth mentioning that Washington this time also offered Tsai "high-level treatment."
James Moriarty, chairman of the American Institute in Taiwan, and Taiwan's representative to the United States, Stanley Kao, welcomed Tsai at the airport.
Tsai visited the Taipei Economic and Cultural Office's Culture Center later, making her the first Taiwan president to visit an official institute during a U.S. stopover since 1979 when the two nations terminated official relations.
Taiwan's foreign ministry later tweeted that Tsai's stopover in Los Angeles was "outstanding," posting a photo showing the California Highway Patrol escorting Tsai's delegation.
Taiwan's media referred to Tsai's two-day stopover in Los Angeles as a "breakthrough."
However, it's still unclear whether Tsai's latest high profile "breakthrough" in diplomacy will lead to retribution from Beijing in the near future. Based on Beijing's traditional pattern of handling the Taiwan issue, it's highly likely.