Disability in India Is Still All About the Able
Disability in India remains about the able-bodied. Why?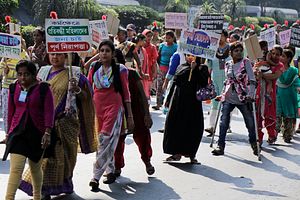 Last week week, the first Global Disability Summit was held in London with the intent to amplify the voices of people with disabilities around the world. Its chant of "nothing about us, without us" echoes in India, too. Over the last few years, the disability rights movement has been instrumental in effecting inclusive laws, which have proven to be hard-fought victories. Yet the rights-based approach has to meet the needs of another cause – that of dismantling existing notions on disability in both policy and public discourse.
Disability in India remains about the able-bodied. Why?
As per the country's latest statistics, an estimated 2.1 percent of the Indian population has a disability; a humbling figure of over 26 million people. A person can face disability — intellectually and physically — at any point in their life from medical complications or life-altering events. Experts agree that a singular, universally accepted definition of disability does not exist. Even as a set of symptoms can be clustered medically, it is highly likely that each person's need would differ from that of another with the same medical condition. Definitions on what constitutes disability, crafted by agencies responsible for securing the rights of persons with disability, such as the government, are thus only frameworks for efficient policy implementation and fulfillment of legal mandates. An understanding of this nuance has largely been missing in active implementation of policy till now.
Nowhere is a conflict more evident than in the case of rare conditions or medical conditions that very few individuals in a population have.
In 2016, after years of painstaking advocacy by disability rights activists with the government, the Indian Parliament expanded the number of disabilities covered under the law from seven to 21. Crucially, rare conditions such as cerebral palsy, autism, and muscular dystrophy, among others were included. Rare conditions can be chronic in nature and require strong interventions. For instance: specialist medical attention is required throughout a patient's life, along with access to affordable medication and assistive technologies to improve the quality of living.  Matters are made worse by an emasculated public healthcare system, which is witnessing an 82 percent vacancy rate in sanctioned posts for specialists at rural Community Health Centers; a majority of people with disabilities (69 percent) reside in rural areas. Patients are usually referred to specialists in tertiary hospitals, located in major cities.
The move by Parliament was an incredibly empowering step for a country that remains largely uninformed about disability-related matters. While some disabilities are widely recognized by the public, others are not. What exactly makes a person in India "disabled"?
The existence of a medical condition is not enough. The probable answer is that an unsavory combination of factors conflates medical conditions with undesirable social tendencies and lack of adequate safeguards. These include negative attitudes toward the outlier individual in communities and in employment, misinformed personal notions in interactions with a person with disability, and the absence of inclusive opportunities and physical spaces. The figures speak for themselves. Only 14.6 million people with disabilities in India are literate. Of those, just a little over 1 million are graduates, and the situation for women is worse than for men. Even now, two-thirds of India's states have yet to notify rules on the Rights of Persons with Disabilities (RPWD) Act passed in 2016, which includes affirmative action by raising reservation quotas in higher education and in government jobs.
Thus, social and public systems are not serving the needs of people with disabilities.
It is against this context that the disability rights movement has been trying to secure a life of dignity for people with all kind of disabilities. However, the current way we perceive ability has engendered unsustainable notions of disability. The binary the rights movement is facing is evident – disability is perceived as being inconvenient to the patient and their family, while ability is commonly construed to be the opposite and thus desirable. The division of disabled/differently-abled/persons with disabilities and the able-bodied has proven dangerous because we have overlooked the individualistic nature of medical disorders and the set of circumstances that are unique to the people who are challenged by them.
The Indian government has sought to change the terminology in the disability debate from viklangjan (disabled people) to that of divyangjan (loosely translates to divine-gifted). Irrespective of good intentions, the divyangjan term now officially used by the government is still problematic. This issue has been raised and commented on by many within the disability rights movement. Critically, in its approach to change the way people perceive disability, the divyangjan narrative does little to destigmatize disabilities or make people aware of or responsive to the realities of people with disabilities. An opportunity has been lost.
Consider the reality. Care and management of rare conditions in developing countries such as India is an immensely hard task. Trained medical supervision for diagnosis and monitoring is hard to come by, even privately. The chances of misdiagnosis are high, rare conditions often have no cure, and new drug development can take decades. Supportive treatment to enhance quality of life, when and where available, is expensive. The facts are a strike on the face at a time when 33 percent of people with disabilities (not just rare) are in the 10-29 year age group, just starting out their lives. Many with disabilities are locked away in homes, yet others struggle to survive.
What is at stake is their well-being, at present and in the future. Until now, the state of affairs has necessitated that different disabilities compete for recognition and validation, for instance, as reflected in the process that led to the expansion of the types of disabilities under law. It is no secret that the majority of decision-makers in private and public spheres are able-bodied. So the goal of "nothing about us, without us" is far from the case.  
The disability rights movement is trying to address the issue by advancing the agenda of inclusiveness. The question should now transition from acceptance into the society (inclusiveness) to equal partnerships with the able-bodied. Until more people who have disabilities enter government, public spaces, schools, and offices, an understanding of their differences and needs will be as vague as it is now in the public sphere. To be able to realize the goal of inclusiveness, a radical shift in perspective — that of being equal partners in development and decision-making — is needed first. 
This shift is difficult to achieve, but not impossible.
While the disability rights movement in India has had a rich history, discussions on rare conditions have only recently gained traction, as has a nuanced understanding of disability in policy and in public. Rare conditions, for one, point to the urgent need to take another look at the lens of disability in the country. The movement is fighting a hard battle, but it is not theirs alone to lead. More importantly, we must ask if we are truly trying to make lives better for persons with disabilities — or is this rather a bargain of empowerment made by the able.
Avantika Shrivastava is a Delhi-based strategic communications professional and former journalist.