In Kashmir, Security Searches Lead to Sexual Abuse
India's renewed Cordon and Search Operations are proving a nightmare for Kashmir's women.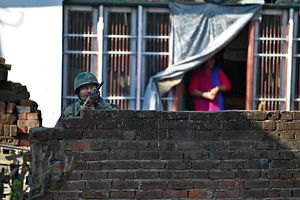 Zareena (name changed on request) remembers every detail of that evening: "There was a commotion outside. A group of policemen made their way into the lawn and started kicking and breaking whatever their eyes fell on. We were looking through the window of our kitchen. They banged on the door and broke it open. After that, they started smashing everything in the living room. The TV, the vases, photo frames and wall-hangings, and everything. We were crying, pleading them to leave but they were in a stupor of rage and frenzy."
This happened in January 2018. Redwani village in Jammu and Kashmir's Kulgam district was sealed by units of Jammu and Kashmir's Special Operation Group, Central Reserve Police Force, and Indian Army. They had received a tip-off that militants were hiding in a house in this village.
Acting on this information, the Indian forces had launched a Cordon and Search Operation (CASO), in the village and searched almost every house.
"It seemed they were not looking for any militant. They had come with a determination to smash everything. Why else would they smash the TV and break the refrigerator? A militant cannot be hiding in there," an angry Zareena said.
When Zareena, her mother, and two sisters pleaded with the policemen to leave and tried to assure them no militant was hiding in their house, the policemen resorted to verbal abuse and swearing.
"I have not heard those abuses ever before in my life. It made me cringe in shame. Among those angry strangers, who carried guns and could have killed me, I felt naked when they were hurling abuse at me," Zareena said.
One of the policemen, whom Zareena described as tall, heavy-built, and the angriest of the group, hit her in the back with his gun butt. For a moment, she gasped for breath.
"He hurled such abuses at me that I could not even stand there in front of my mother and sisters. He said I was hiding militants in my house to get sexual favors from them. Then he said a thing that made me cry incessantly," Zareena recalled, without telling what, exactly, the policeman had said to her.
CASO was recently re-introduced in the Kashmir Valley after a gap of over 15 years. The decision to re-introduce the operation was taken after the killing of Indian Army Lieutenant Ummer Fayaz by militants in May 2017.
CASO, in its new form, is seen by the local populace as a more brutal form of anti-militancy operation. However, the security forces describe it as a successful tactic used to "flush out the militants" from the residential areas.
However, there have been myriad repercussions from the new policy. Frequent resistance by the locals during CASOs and subsequent civilian killings have accompanied this operational procedure. More so, reports of the excesses committed by the security forces during these operations have also been in the news. Cases of sexualized abuse and harassment of women — like that experienced by Zareena — are not uncommon among the locals who have witnessed these search operations, particularly in Kashmir's southern districts.
On the afternoon of January 13 this year, a large contingent of Indian forces entered Midur village in Awantipora town in South Kashmir. A door-to-door search operation in several residential houses was launched to check if any militants were hiding inside.
Thirty-year-old Rumaisa (name changed on request), her 24-year-old brother, and her mother had just finished their afternoon tea. Her father had gone to Awantipora town to meet someone. As she was washing the dishes, she heard pro-freedom slogans from a distance. At first she ignored it, thinking it was blaring from a loudspeaker, as happens sometimes in the villages of South Kashmir. But when the outer gate of her home flung open and a dozen security forces rushed in, she knew what was coming.
"None of them said anything," Rumaisa remembered. "They just kept smashing window panes with sticks, guns and stones that were laying around."
Inside, on the first floor of their house, Rumaisa and her family witnessed it all while they tried to escape from the glass shards that lay all around in every room. When the security forces were done smashing the windows, Rumaisa recalled, they barged into the house. By that time, the entire family had come down to try in vain to stop the security forces from vandalizing anything else.
Crockery, the refrigerator, the TV, showpieces, and many other things which Rumaisa could not recall were broken beyond repair. But the security forces did not stop there.
"All of them pounced upon my brother and started kicking him everywhere. For a moment, I thought he would be killed. There was nothing I could do to stop them, so I jumped over my brother to cover him from them. But they did not even spare me," Rumaisa said, recounting the horrific details of that afternoon.
While a few of them were busy smashing things, and checking rooms, said Rumaisa, one of the security personnel groped her, twisted her arms behind her back, and said, "I will drag you to Tral chowk, strip you naked and shove this gun inside you." Rumaisa did not wish to recall anything further, saying she feels too ashamed.
While her brother lay next to her, almost unconscious and howling in pain, Rumaisa broke into a sweat and could not say a word to the security forces.
"I, being a mother, wanted to die then," Rumaisa's mother said. "He [the security personnel] hurled such abuses at my daughter that I wished all of us should die right there. When he threatened to rape her in front of the village, I was sure he would do something terrible to her, so I quickly flung my headscarf under his feet and begged him to leave him my daughter."
He pushed her away, kicked her brother again, and left along with the others.
Vandalizing property, beating civilians, and sexual harassment and abuses are common during CASOs, said Kashmir's human rights lawyer Parvez Imroz.
According to Imroz, during a CASO, the entire locality is deemed hostile and thus the security forces do not discriminate between men and women; they harass and abuse both.
Though the Armed Forces Special Powers Act (AFSPA) gives the Indian Army the powers to launch CASO, Imroz said, the draconian nature of the Act gives them a free hand to commit excesses with impunity. The complaints against these excesses are thus ignored by the security forces.
For example, when locals complained of excesses by the security forces in Midur village, a report in a local daily quoted Awantipora Superintendent of Police Muhammad Zahid Malik as issuing a blanket denial: "The forces did not vandalize properties or beat up the people."
However, the report also cited Malik as saying he will look into the accusations. Seven months after the incident, though, the security personnel have not been made answerable. And the beatings of civilians, sexual abuse and harassment of women, and ransacking of homes, have not come to an end.
When Indian forces launched a massive search operation in South Kashmir's Pulwama district in July this year, almost half a dozen villages were cordoned off and door-to-door home searches were conducted to check for militants.
In Puchal village, the locals said the forces broke their windows, doors, vehicles, and whatever met their eyes.
Sixty-two-year-old Saja said her daughter, who is in her 30s, was hit on the head with a gun by the security forces when they were conducting the searches.
"We let them in. We did not resist. But when they started smashing window panes, my daughter objected. The trooper hit her head with his gun and she fell down," Saja said.
It did not end there. Saja, who was crying all this while, pleading and trying to get her daughter out of the clutches of the security forces, said an army trooper put foot on her daughter's chest and started wiggling, causing more pain to her as she was already writhing on the ground with a head injury.
"He spat on her, made vulgar gestures and hurled abuses at her. I was sure he would do something terrible to her, so I had made up my mind to kill myself even before that calamity would hit," Saja said.
But then one of the troopers leading the group of army men directed them out of the house. "They did not find anyone here, so they left in frustration. They smashed everything."
But Saja is not sorry about the broken things. She says she is just relieved that her daughter was not raped.
"Had my son been home and witnessed how his sister was abused and how she was pinned beneath the boots of the army man, I swear he would have joined the militancy," Saja said.
Qadri Inzamam is a freelance journalist based in Indian Administered Kashmir. His work has been featured in The Diplomat, Al Jazeera, Caravan, and BBC India.