Who Are Kashmir's 'Hybrid Militants'?
Are "part-time terrorists" on the rise, or is the term used to evade accountability for police abuses?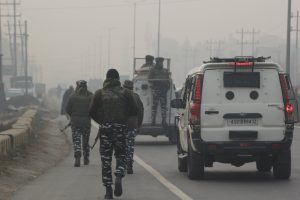 On an evening of November 15, a large contingent of India's Police, Center Reserve Police Force, and Army set up a Cordon and Search Operation (CASO) in Hyderpora neighborhood of Srinagar in Indian-administered Kashmir.
The government forces, as per the Inspector General of Police for the Muslim majority Kashmir region, had "credible inputs" about the "presence of militants in the area."
The forces immediately emptied the commercial area by shifting people, mostly businessmen, into a nearby two-wheeler showroom. Police snatched mobile phones as part of the search operation.
Minutes later a few policemen were looking for a 48-year-old businessman identified as Mohammad Altaf Bhat. He owned a three-story building where he used to run a cement and hardware store on the  ground floor. Police believed the building was a hideout for militants.
According to witnesses, Bhat was told to accompany troops into his building, which was located on the national highway. Bhat obeyed the command. Minutes later he returned and waited for the search operation to end. However, police again approached Bhat and asked him to accompany the government forces into the concrete structure once again.
Bhat went inside the building a second time and later returned to the group of businessmen assembled inside the showroom. Government forces continued to look for the militants.
Witnesses say the police finally approached Bhat for the third time and asked him to whom he had rented the first floor. He in return introduced them to 40-year-old Mudasir Gul, who ran a construction business and a call center there.
Bhat and Gul went inside the building to unlock the two rooms located on the first floor so that the joint team of Indian forces could conduct searches in the remaining portion of the building.
A few minutes later, a couple of policemen came down the stairs and asked for a 22-year-old man, Aamir Ahmad Magray. He was found inside the premises of a nearby private hospital where he usually had lunch.
One of the policemen, as per witnesses in the hospital, told Magray to come along with them. "He was supposed to open the doors of the locked rooms as he had carried keys along with him," an eyewitness told The Diplomat on the condition of anonymity.
After Magray went upstairs, guns started roaring.
Local media, quoting unidentified police officials, reported that three people including two militants and an OGW – an acronym for Over Ground Workers, a regional colloquialism for people who provide logistical support to militants – were killed.
The police claimed that one among the slain was a "hybrid militant." However, netizens questioned the legitimacy of the gunfight after the slain men were revealed to be Bhat, Gul, and Magray.
Vijay Kumar, Inspector General of Police, next morning in a press conference clarified that not three but four peopl had been killed. These included a foreign "terrorist," Hyder (alias Bilal Bhai) and his "associate," Amir Ahmad Magray; "OGW" Mudasir Gul; and the "building owner," Altaf Ahmad Bhat.
The families of Bhat and Gul rejected police claims, saying that the gunfight was "staged" and that the duo were not affiliated with militancy.
"Terrorists Disguised As Civilians"
Ever since targeted civilian killings rattled the war-torn region in October, Jammu and Kashmir has been hearing about a new kind of combatant known as "hybrid militants."
The word "hybrid" first emerged after suspected militants believed to be affiliated with a lesser-known militant outfit, The Resistance Front (TRF) assassinated two non-Muslim teachers inside the premises of a government school in Srinagar on October 7.
Police Inspector General Vijay Kumar told reporters that hybrid militants are "terrorists disguised as civilians."
"They are part-time terrorists who are not in our list [of militants]," he said, adding that such people remain in touch with "terrorists through digital devices and are locally trained."
"Hybrid militants carry out a couple of attacks and then reengage themselves in normal activities; as a result it becomes difficult to track them," Kumar said, adding that such militants use weapons like "pistols and grenades" to create an atmosphere of "terror and fear" in the valley.
Questioning the Term
Hybrid militants continue to make headlines in the disputed region amid targeted shootings, but people are left to wonder what exactly the phrase means.
The term gained wide attention after police used it for Magray after the controversial Hyderpora gunfight. Many wondered why, if Magray was a militant, he was not arrested police when first found him inside the hospital.
Magray was hired by Gul to perform odd jobs, such as making tea at his office. He used to live on the third floor of the building along with his sister. However, she was not present on the day when the gunfight took place as she had gone to her home in the Gool area of Ramban, in Hindu-majority Jammu, a few months ago.
"My son was a civilian," Magray's father, Lateef Ahmad Magray, told The Diplomat. "Had he been a militant then police and other forces would have apprehended him the moment he was frisked inside the building when search operation started."
Lateef said that his family shifted to Jammu following militant threats. He says that his entire family is pro-India. "My family is under police protection because I myself have killed a militant with a stone long time ago," he said.
"I don't know what police means by saying he was a hybrid militant," Lateef said. "They must investigate and come get the militant tag removed from my son."
Omar Abdullah, a former chief minister of the erstwhile state of Jammu and Kashmir, who by virtue of that position headed the Unified Command – an authority structure comprising several government forces, administrative and intelligence agencies to deal with security challenges and insurgency in the region – said that he has never heard about the term before.
"I was the chief minister [of Jammu and Kashmir] for six years and headed the Unified Command, dealt with intelligence reports but have not heard about hybrid militants," he said during a sit-in protest to show solidarity with the trio killed in the Hyderpora gunfight.
"Make me understand what hybrid militant means."
Change in Strategy
The New Delhi-based news agency Press Trust of India, in its report on the subject, termed hybrid militants a "new challenge" for Indian forces in the disputed territory, which is sandwiched between India and Pakistan.
The report, quoting an unidentified police official, accused Pakistan and its intelligence agency, Inter Services Intelligence (ISI), of pushing a "new trend" in militancy on the Indian side of Kashmir.
Retired Lieutenant General Officer and Commanded in Chief of the Indian Army's Northern Command, D.S. Hooda, told The Diplomat that hybrid militant is a "new term" that has emerged from Kashmir. He highlighted the possibility that militants might have changed strategy to ensure their safety, unlike their recent predecessors.
"I cannot say exactly what hybrid militant is because I have not heard the term before," Hooda said. "Terrorists previously used to announce their recruitment in terrorist ranks through social media by posting pictures, but now I guess they [militants] might have changed the strategy for their safety," he added.
Announcements by young Kashmiris about joining militant groups had become a challenging task for the government of India. Hundreds of youth joined different rebellious outfits to fight what they called the "Indian occupation" of the region.
The trend of posting pictures and announcing recruitment in militant ranks was started by a young militant commander, Burhan Muzafar Wani, nearly a decade ago. He was killed by Indian forces in a brief shootout in 2016; his death was followed by a months-long civil uprising.
Brandishing weapons on social media proved to be disastrous for militants in the longer run, however, as Indian forces used an iron-fist policy to crush the rebellion.
In the last five years militants have suffered maximum casualties as Indian forces have killed them one after the other in gunfights. As a result, several analysts believe that militants might have changed their strategy in recent times.
Dr. Sheikh Showkat Hussain, a prominent political analyst and an academic in Kashmir, has a different take, however. He told The Diplomat that the police use the new term for people who previously were known as "militant sympathizers."
"Authorities want to target the dissent and once dissent is targeted they need justification for it and that justification is created by using the word hybrid militant," Hussain said. "By using different terminology they want to convey that they are not targeting them because of their dissent but due their association with insurgency."
Restricting Dissent
Rights activists and mainstream politicians know that the term "hybrid militant" can be misused in a region when human rights violations are growing following the scrapping of Jammu and Kashmir's limited autonomy by the Hindu nationalist ruling Bharatiya Janata Party in 2019.
Rights activist Muhammad Ahsan Untoo, who heads International Forum for Justice and Human Rights JK, told The Diplomat that the term hybrid militant is worrying as government forces are using it to cover intelligence failures and arrest people at whim. "Action can be taken against anybody by labeling him as [a] hybrid militant," he said.
Mehbooba Mufti, former chief minister and the president of one of the largest mainstream political parties, said that ever since the affairs of disputed territory are being "directly run by the center government from New Delhi there is hardly any accountability."
"When civilians get killed they dub them as OGWs and now this new term [hybrid militants] has come up. We do not know what would be its repercussions," she said.
"Police need to come clean about what they mean by hybrid militants," Mufti said. "Hybrid militant is one more nail in the coffin of fundamental rights that Kashmiris enjoy till now."