India Test Fires Short-Range Ballistic Missiles From Submerged Sub
With the recent test firing of three submarine-launched ballistic missiles, India is inching closer to completing its nuclear triad.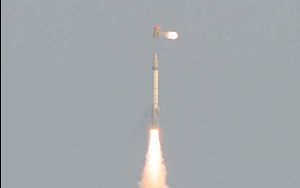 India's first domestically developed and built nuclear-powered ballistic missile submarine (SSBN), the INS Arihant, has for the first time test fired three sub-launched K-15 (B-05) short-range ballistic missiles (SLBM) from a submerged position off the Visakhapatnam coast on August 11 and 12, according to local media reports.
"All three missiles were fired from the submarine, positioned nearly 20-meter deep in the sea, about 10-km off the Vizag coast," a defense official told the New Indian Express on August 19 "It perfectly followed the pre-designated trajectory before zeroing in on the target with high accuracy, reaching close to zero circular error probability."
Two of the tests were conducted on August 11, while the test launch on August 12 occurred in full operational configuration as part of the missile's first phase of user trials. With the successful test launches, India is moving closer to completing the sea-based leg of its nuclear triad. The Indian Ministry of Defense (MoD) has officially not commented on the missile trials.
The last test firing of a K-15 SLBM from the INS Arihant took place in November 2015. The K-15 Sagarika, a solid-fueled two-stage SLBM capable of carrying a single 500-kilogram warhead (some sources claim that it can carry a 1,000-kilogram payload) and boasting a maximum range of 700 to 750 kilometers, has been under development by India's Defense Research and Development Organization since the 1990s.
The INS Arihant, the lead boat of a planned fleet of four to five SSBNs based on the Russian Project 971 Akula I-class nuclear-powered attack submarine (SSN), can carry up to 12 K-15s or four K-4, an intermediate-range, nuclear-capable SLBM last successfully test fired from the Arihant in April 2016.  The K-4, with an estimated maximum range of 3,500 kilometers, can reportedly carry a 2,000-kilogram nuclear or conventional payload.
As The Diplomat reported previously, the INS Arihant, suffered major damage in 2017 and has been out of commission for most of 2017 and 2018 raising questions about the Indian Navy's capability to field a modern SSBN force. (The INS Arihant will not be deployed for nuclear deterrence patrols and serves as a training platform for future submarine crews and as a general technology demonstrator.)
The second Arihant-class SSBN the future INS Arighant (originally assumed to be named Aridhaman), was launched in November 2017. The boat is expected to be commissioned in 2020 or 2021. As I reported in October 2017:
The [Arighant's] will purportedly have a more powerful reactor than the 6,000-ton Arihant and also be slightly bigger. In addition, compared to the lead boat of the class the [Arighant's] will have double the number of missile hatches, with eight launch tubes rather than the Arihant's four.

The [Arighant's] will also carry more advanced sensors than its sister boat and feature the indigenously-developed USHUS integrated sonar system and the Panchendriya sonar, a unified submarine sonar and tactical control system used for detecting and tracking submarines, torpedoes, as well as underwater obstacles. It can also be used for underwater communication.
India maintains nuclear warfare policy centered on a No First-Use (NFU) doctrine. "[As of now] India keeps its nuclear warheads de-mated from the actual missiles. However, in order for the new sub class to fulfill its role as the sea leg of India's nuclear triad, SLBMs with mounted nuclear warheads will need to be deployed on the boomers," I explained in February 2016.