Japan Eyes Sri Lanka's Deep Water Port of Trincomalee
Anxiety over China's growing maritime influence drives Japanese, Indian, and U.S. interests in Sri Lanka's ports.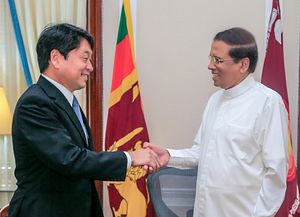 The most notable aspect of Japan's Defense Minister Itsunori Onodera's first ever visit to Sri Lanka, from August 20 to 22, is that it took the form of a tour of the island's three major ports, located on its western, southern, and eastern coasts. At a time when port development has become an economic necessity for Sri Lanka, the strategic dimension of foreign investment in this type of infrastructure has started to attract much attention in the Indian Ocean region.
Much of the interest in Sri Lanka's maritime security and port development activity shown by the United States, India, and Japan in recent times has stemmed from anxiety over China's growing maritime influence and assertiveness in the region. The southern port of Hambantota, in particular, has been in the media spotlight since its operation was formally handed over to a Chinese firm on a 99-year lease last year. Chinese investment in Hambantota is seen as part of its mega Belt and Road Initiative (BRI), connecting Asia with Africa and Europe. Japan has repeatedly expressed concern over the possibility of Hambantota being used for military purposes, despite assurances to the contrary from both Sri Lanka and China. During his visit, Onodera again expressed this anxiety when he told NHK World: "Despite China's long term lease, it is internationally acknowledged that the port should be free and open to the public."  
Sri Lanka's ports have been open to all. "None of Sri Lanka's ports should be used by anyone for military purposes," said retired Adm. Jayanath Colombage, director of the Center for Indo-Lanka Initiatives and Law of the Sea at the Pathfinder Foundation. Pointing out that ships from no fewer than 27 countries have visited Sri Lanka between 2009 and 2018, the retired Navy commander asked, "What is meant by 'military purposes?' If a ship calls in a port for fuel, water etc. it's not military but a goodwill visit. If they come to act against another country, that is military," he said. "We welcome anyone, only they shouldn't come with the intention of harming anyone, especially India."
Japan's anxiety could be seen as stemming in large part from its total dependence on imported energy supplies transported by sea. Hence its vigorous promotion of the concept of a "free and open Indo-Pacific," endorsed by Washington. For Sri Lanka, the development of infrastructure involving strategic assets like ports and airports has now become inseparable from its defense dimension. "Everything in the Indian Ocean region has a defense dimension," said Colombage.
While Hambantota has been the most talked about, from a strategic point of view the most valued asset is probably the eastern port of Trincomalee — considered to be one of the best deep water natural harbors in the world. During British colonial rule it housed a naval base and airbase, and since its 1956 take-over by the government of Sri Lanka (then Ceylon) it has been operated as a commercial port. During the Trincomalee leg of his tour, Onodera visited an oil tank farm built by the British, which was targeted during World War II by Japanese kamikaze pilots. The attack completely destroyed one of the 101 tanks and is said to have killed hundreds of airmen.
Sri Lankan officials have talked about plans to develop Trincomalee port and its environs with help from Japan and India, but nothing specific has been announced. During Onodera's three-day visit the Japanese Maritime Self Defense Force's Ikazuchi was docked in Trincomalee. The visiting minister addressed the crew on board. A week after Onodera's departure, Japan's State Minister for Foreign Affairs Kazuyuki Nakane arrived in Colombo for the commissioning ceremony of two patrol vessels donated by Japan to the Sri Lanka Coast Guard. 
Before he arrived in Colombo, Onodera held talks with India's Defense Minister Nirmala Sitharaman in New Delhi where, according to the Japan Times, they agreed to start talks on an Acquisition and Cross Service Agreement. Tokyo and Delhi are reportedly in the process of upgrading their defense and foreign affairs talks to ministerial level, at a time when Washington too is pursuing a similar "2 + 2" dialogue with New Delhi. The United States has stepped up its involvement in the area it now calls the "Indo-Pacific," having announced $300 million in security assistance for the region. Of this funding, $40 million is earmarked for Sri Lanka, $39 million for Bangladesh, and $17 million for Nepal, Principal Deputy Assistant Secretary Alice Wells said at a Washington press briefing on the subject of "U.S. Policy in the Indian Ocean Region," on August 20 — the day Onodera arrived in Sri Lanka.
All of this defense-related diplomacy happening around the same time is no coincidence. It can be explained by a single uniting factor: the desire to push back against China's growing maritime influence in the Indian Ocean.
Lasanda Kurukulasuriya is an independent Colombo-based journalist, a contributor to the New Internationalist and columnist for the Daily Mirror.