Japan and Sri Lanka Enhance Maritime Cooperation
Japan and Sri Lanka are looking to expand their cooperation on maritime security issues.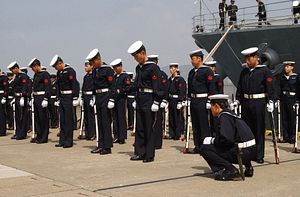 In a little noticed diplomatic trip, the chief of staff of the Japan Maritime Self-Defense Force Admiral Katsutosi Kawano visited Sri Lanka. In Sri Lanka, Admiral Kawano met with President Mahinda Rajapaksa to discuss the enhancement of bilateral cooperation on security issues, including maritime security. Admiral Kawano's trip follows a flurry of official and track-II bilateral activity between the two countries in early June 2014.
According to the Sri Lankan Ministry of Defense, Admiral Kawano noted that the "Japanese Navy would like to learn from Sri Lanka's experiences with antiterrorism operations." The Sri Lankan MoD report also states that Admiral Kawano expressed an interest in Sri Lanka's ports. Sri Lanka sits at a strategically important location in the Indian Ocean and 15 Japanese navy ships have visited Colombo in the past 18 months. While Japan already enjoys relatively developed interoperability and port access from India, its interest in Sri Lanka reflects Japan's enduring interest in ensuring the freedom of navigation in the vital sea lines of communication in the Indian Ocean. As a net importer of energy, Japan is highly reliant on the free passage of goods originating in the Suez Canal and the Strait of Hormuz through the Arabian Sea, ultimately entering the South China Sea and the Pacific via the Strait of Malacca.
The Sri Lankan Ministry of Defense further notes that Admiral Kawano expressed interest in Japanese ships using Sri Lanka's Hambantota Port, "especially given its 17-meter depth and its proximity to the world's busiest east-west shipping lane."
President Rajapaksa of Sri Lanka met with Japanese Prime Minister Shinzo Abe in 2013. Current progress in bilateral relations largely seems to have grown out of that meeting. On June 3, Sri Lankan public sector officials received a 215 million yen grant as part of the Japanese Grant Aid for Human Resources Development Scholarship Programme (JDS). Sri Lanka and Japan are also trying to set up an Economic Partnership Agreement (EPA) of the sort Japan enjoys with several other Asian nations. On June 7, a group of senior Sri Lankan business leaders visited Japan to promote trade and investment as well.
Under current constitutional limits, Japan cannot deploy its Self-Defense Forces for combat operations in remote waters. The current Liberal Democratic Party government under nationalist Prime Minister Shinzo Abe is attempting to reinterpret the constitution such that Japan would be able to take greater responsibility in collective self-defense, but the prospect of entirely revising Article 9 of Japan's constitution remains remote. In addition to Japan, China has grown considerably close to Sri Lanka since Mahinda Rajapaksa's rise to power and sees Sri Lanka as an important strategic outpost in the Indian Ocean.