Naval Cooperation Highlights Japan-UK 'Global Security Partnership'
A British warship is helping conduct surveillance designed to enforce UN sanctions on North Korea.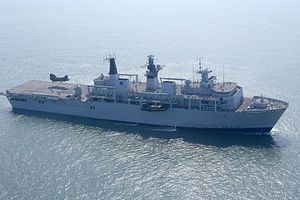 Amid moves to deepen its security ties with Japan, the United Kingdom has tasked some of its military assets with monitoring compliance with international sanctions against North Korea. Sanctions enforcement is a key priority for the Japanese government, which in recent times has repeatedly accused the North Korean regime of benefiting from illicit ship-to-ship transfers of oil and other goods.
HMS Albion, an amphibious assault ship, is the second Royal Navy ship to be deployed to the region this year, with a third due later this year. HMS Albion was based in the Japanese port of Yokosuka for maintenance and a leave period in July, and will remain "in the Japanese area" at least until the end of August, according to a press briefing by officials at the British Embassy in Tokyo. This may include some joint exercises with Japan.
"HMS Albion's deployment is part of a greater presence by the Royal Navy in this part of the world this year," said the British Ambassador to Japan Paul Madden. He confirmed HMS Albion had already conducted surveillance operations as part of the international enforcement of UN Security Council resolutions on North Korea. Madden characterized the visits to the region as "a visible demonstration of the U.K.'s commitment" to enforcing the sanctions.
British officials are tight-lipped about the specific findings but say the mission has been "very successful." Royal Navy Captain Paul Casson, who is the defense attaché at the British Embassy in Tokyo, told reporters: "What I will say is that Albion's conduct during her surveillance activity, the same as HMS Sutherland's conduct earlier in the year, has proven to be very valuable indeed to the United Nations command."
The Japan Maritime Self-Defense Force (JMSDF) and the Japan Coast Guard have been at the forefront of international monitoring operations to date. Just last week, Japan's Ministry of Foreign Affairs released photographs of what it believed to be a banned ship-to-ship transfer. It said a JMSDF asset had observed an interaction between a North Korean-flagged tanker called "NAM SAN 8" and a vessel flying what "seemed like" a Chinese flag at midnight on July 31. The two vessels were reportedly seen next to each other about 400 kilometers away from Shanghai in the East China Sea.
The Japanese government has stressed the importance of continuing to enforce sanctions until North Korea takes concrete steps toward denuclearization. "Since April, multinational surveillance activities operating out of Okinawa have been conducted by patrol aircraft of the United States, Canada and Australia, along with information-gathering efforts by a British Royal Navy warship," Japanese Defense Minister Itsunori Onodera told the Shangri-La Dialogue in Singapore in June. He added: "We need to maintain these activities under multilateral collaboration."
When asked at the press briefing last week whether the U.K.'s increased presence in the region was a result of requests from the Japanese government, Madden said it reflected "a global prioritization of our resources and then conversations with a number of allies about what we need to do to contribute to the international sanctions enforcement effort." The British ambassador continued: "But obviously we talk very closely with the Japanese about how we can work together."
Casson, the defense attaché, said the British military had "not been in significant force in this area for some years" due to its heavy engagement in the Middle East, along with counterpiracy efforts in the Horn of Africa and more recently with refugee operations in the Mediterranean. He said, however, that British forces were currently "rekindling" relationships in the Asia-Pacific. "It is of course critical for world economics that we have stability in this region, and the U.K. government has said to itself we need to play a greater role in maintaining that stability," Casson said.
He said the visits by the three ships this year were "to exemplify the fact that we are still very much a global player with a voice on the global stage." The Royal Air Force conducted a joint aerial combat drill with Japan in 2016, and British Army troops are due on Japanese soil for an exercise in October this year.
The moves are underpinned by an agreement between Japanese Prime Minister Shinzo Abe and British Prime Minister Theresa May in August of last year to "elevate our global security partnership to the next level through comprehensively enhancing security cooperation between Japan and the UK." That joint declaration committed the two countries "to exercising their leadership to maintain the rules-based international system as the closest security partners respectively in Asia and Europe."
On that note, the British ambassador faced questions about whether HMS Albion would challenge China's territorial claims when it passes through the South China Sea on its way back to the U.K.
Madden offered only the broad comment "that the U.K. is committed to upholding the rules-based international system by asserting the fundamental principle of freedom of navigation."