A New Era for UK-Japan Relations?
British leaders appear to view an upgraded relationship with Tokyo as an essential part of the U.K.'s new Asia-Pacific strategy.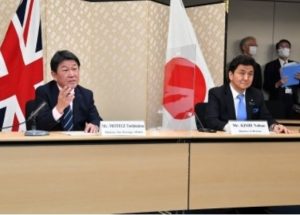 If good diplomacy is discreet, then it is perhaps the United Kingdom and Japan that have set the bar in recent years. Traditionally viewed as firm allies, the two nations have pursued an extensive partnership that has largely evaded media attention. This is exemplified by a bilateral trade relationship valued in the billions, a quiet success that has only recently threatened by the uncertainties of Brexit. Rather than disrupt these lucrative links, however, has Britain's recent withdrawal from the EU resulted in an opportunity to upgrade public relations? This idea has proven especially popular among London's Conservative establishment. Eager to turn these hopes into reality as part of its "Global Britain" ambitions, Downing Street now appears to view an upgraded relationship with Tokyo as an essential part of its new Asia-Pacific strategy.
Of course, it is impossible to understand this emerging vision without discussing last year's bilateral trade deal. Described by International Trade Secretary Liz Truss as a "historic moment" for both nations, the agreement was quickly promoted as a statement of intent regarding future cooperation. The effects of this move were immediately felt in Japanese boardrooms worried by a potential no-deal Brexit. For example, European Honda representative Ian Howells recently stated that the deal "probably settled a lot of nerves" regarding investment flows. Despite this, has the agreement truly pushed links beyond the status quo?
While the deal was officially hailed by government as "a glimpse of Global Britain's potential," experts have pointed to a supposed rift between rhetoric and reality. Questions, therefore, may be asked regarding whether or not "the U.K.'s first major trade deal as an independent trading nation" was simply an agreement of convenience. What truly stands out about the deal, however, is the commitment to work toward Britain's entry into the current iteration of the Trans-Pacific Partnership (CPTPP). Enthusiasm for London's accession was expressed as early as 2018 by former Japanese Prime Minister Abe Shinzo, whose desire to welcome the U.K. "with open arms" is shared with the current Suga administration. Indeed, London's official application in February represents the first real attempt to forge a new level of public relations with Japan. Given U.S. President Joe Biden's continued uncertainty over applying for readmission to the trade pact, this may well transform the CPTPP into a thoroughly Anglo-Japanese endeavor.
Such concrete steps are also clear in the field of defense. Building on a framework established in regular "2+2" ministerial meetings, the two states have pursued a high-profile security partnership since the U.K.'s withdrawal from the EU. London appears to be the main driving force behind this move, with Foreign Secretary Dominic Raab last month highlighting Japan's important position within "the U.K.'s Indo-Pacific tilt." This is made even more clear by British flagship HMS Queen Elizabeth's leading role in planned bilateral drills later this year. While U.S. naval forces will provide crucial operations support, these joint exercises could become a watershed moment for these otherwise reserved partners.
Naturally, these military developments are motivated by more than sheer goodwill. For instance, a recent telephone conversation between Prime Minsters Boris Johnson and Suga Yoshihide made reference to a "Maritime Security Arrangement" signed by naval officials. While details are scarce, the arrangement appears to constitute a shared maritime doctrine focused on maintaining open sea lanes vital to both nations.
By extension, it seems that checking Beijing's increasing presence in the East and South China Seas has become a top bilateral priority. This issue has been directly discussed by officials in recent months. As reported in The Diplomat, Defense and Foreign Ministers Kishi Nobuo and Motegi Toshimitsu were eager to raise China's new Coast Guard Law with their British counterparts during February's "2+2" meeting. This move exemplifies Tokyo's general enthusiasm for the "Global Britain" project, with the imminent deployment of British naval power to the region seemingly backing up ambitious rhetoric.
While these actions make great headlines, a lack of nuance concerning China policy could cause rifts in this increasingly public relationship. This was made clear by Johnson's push to institutionalize London's new Asian pivot through the creation of a "Democratic 10" group. Set to be discussed at the upcoming G-7 summit in Cornwall this summer, the plan would see Australia, India, and South Korea invited to cooperate on several increasingly political issues, such as 5G technology. Possibly sensing a threat to its privileged diplomatic position, the Suga administration published a note that "pushed back strongly" against this potential move in January. British discussions of traditional rival Seoul's formal inclusion likely raised alarm bells more than anything else in Tokyo.
As a result, it is perhaps best for both sides that most of London's ambitions still remain in the abstract. A time-tested bilateral formula of low-profile meetings may subsequently prove crucial to post-Brexit Britain's future hopes regarding both Japan and the wider Asia-Pacific.
Niall M. Gray is a recent graduate of Central and East European, Russian and Eurasian Studies at the University of Glasgow.