Tajikistan's President Makes Historic Visit to Uzbekistan
Seventeen years after his last official visit, Tajik President Emomali Rahmon visited Tashkent and Samarkand.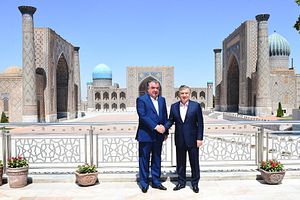 The streets of Samarkand were lined with Tajik and Uzbek flags flying tall during the days ahead of Tajikistan's President Emomali Rahmon's visit to Uzbekistan. Cleaners, gardeners, and policemen were all working twice as hard to ensure that the city was shining by the time of the parade. On August 18, most roads were shut to traffic and thousands of policemen guided pedestrians on the few allowed paths along the sidewalks. On a main intersection, a large sign celebrated Uzbek-Tajik friendship and a large screen offered scenes of greetings between Rahmon and his counterpart Shavkat Mirziyoyev in a loop.
With such a pomp, Uzbekistan welcomed Rahmon's first official visit in 17 years. The two presidents held the usual signing ceremony in Tashkent, proudly showing the two dozen documents on which they agreed. The reach of these agreements could not be fully gauged, due to the lack of concrete steps for their implementation. However, a document on strategic partnership could lay out a framework for further cooperation.
The two presidents also exchanged gifts: Rahmon presented Mirziyoyev with a book of poems celebrating their common cultural heritage. Mirziyoyev awarded Rakhmon with the order of "El-yurt hurmati," a honorific title in Uzbekistan.
Ahead of the visit, the two countries resumed commercial flights between Bukhara and Dushanbe. The two cities had not been connected for 25 years. In April 2017, just a few months after Mirziyoyev took office, Tashkent and Dushanbe had also resumed their air link.
Mirziyoyev hailed the historical moment with a revealing rhetorical question: "Who could have imagined this one-and-a-half years ago?" Eurasianet reported him as saying during the official dinner on August 17.
In Samarkand, Rahmon and Mirziyoyev joined together to mourn Uzbekistan's first president, Islam Karimov, at his mausoleum. While Mirziyoyev served for 14 years as prime minister under Karimov – and could be considered a loyal right-hand man – Rahmon never had a good relationship with him. Border, water, and political issues continued to mar their talks, which became increasingly sporadic.
Rahmon indirectly highlighted his strained relationship with Karimov by praising Mirziyoyev.
"From the first days since taking office, my dear friend and brother Shavkat [Mirziyoyev] became a staunch supporter of strengthening cooperation among Uzbekistan's regional neighbors. He strived to create the basis for a multifaceted development of our relations," Rahmon said.
Mirziyoyev had visited Tajikistan in March, signaling the improvement of bilateral ties. The second official meeting this year stoked the positive changes in their relationship.
"Your visit is an important political event in the new history of Uzbek-Tajik relations, demonstrating a firm commitment to further expand our cooperation," Mirziyoyev told Rahmon in Tashkent.
The meeting, however, failed to address some of the most thorny issues that still keep both Uzbekistan and Tajikistan at a crossroads. Water resources management, border delimitation, and the political feasibility of the Rogun dam and hydroelectric plant near Dushanbe are still open questions. Plans to lure Uzbekistan to partly pay for the construction of Rogun were not addressed at the meeting, thus leaving the question of the funding of this megaproject unanswered. The small-scale agreements on the joint construction of two hydroelectric stations along the Zarafshan River could be considered a timid hint that the parties are preparing for deeper cooperation on water management.
People in Samarkand and Tashkent, however, showed high hopes for the renewed cooperation.
"Emomali is coming tomorrow, our new president is doing great things for our people and for Central Asia. A better relationship with Tajikistan means more peace between our peoples," Said, a taxi driver in Samarkand, told The Diplomat.