The Government of Bangladesh Needs to Stop Silencing Its Citizens
Bangladeshi citizens deserve to be heard and the government needs to accept responsibility for its failures.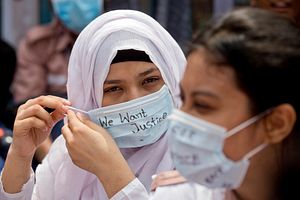 A tragic traffic accident that killed two students in Bangladesh led to mass student protests across Bangladesh's capital, Dhaka. Students were demanding that the government take steps to improve road safety, but the peaceful protests were interrupted by Bangladesh police and other authorities, who decided to beat protesters with batons and shut down mobile connections. Protesters also reported being fired at with tear gas and rubber bullets, leaving dozens with serious injuries. This response is completely unacceptable and inhumane.
In addition, leading photographer Shahid Ul Alam was arrested after posting his views about the protests. Frustratingly, it seems that no citizen of Bangladesh can voice their views in the country without being reprimanded by the government.
Despite the fact that both the United Nations and the U.S. government have voiced concerns about the crackdown on protesters, the violence has spread as the protests persist. While Bangladeshi Prime Minister Sheikh Hasina's government has come under fire for being negligent on road safety issues, the prime minister has now vowed to issue the death penalty for deliberate fatal accidents in a bid to quell the growing demonstrations.
A car carrying U.S. Ambassador Marcia Bernicat was also attacked by armed men but escaped unscathed, the embassy reported. The U.S. embassy further stated that although it did not condone "senseless property destruction… nothing can justify the brutal attacks and violence over the weekend against the thousands of young people who have been peacefully exercising their democratic rights in supporting a safer Bangladesh."
As a journalist, I believe that if I wrote against the government of Bangladesh for a national publication in Bangladesh I would probably be arrested. The silencing of the media and disabling people from being informed is alarming and needs to be called out for what it is. This is an injustice to the citizens of Bangladesh and they need to be given their full rights.
Why did the government stop protesters from posting photos and videos on social media? Why have they disabled mobile internet connections if there is nothing to hide? Interviewees are frightened to even be named in the press due to fear of their own safety and the safety of their families. When citizens fear their own government, when citizens are stripped from voicing their opinions regarding their rights, then who do they have to turn to?
The government of Bangladesh needs to realize that accountability is important. They need to be accountable for their own mistakes in failing to ensure the safety of their citizens. There are many obstacles to overcome in order to expose the intolerance of governments to criticism. Powerful states continually manipulate the law and conceal their own wrongdoings from international criticism for their own political advantage, which makes it increasingly difficult for people to be brought to justice or be called out for what they have failed to do. As an international community we need to speak out against what is wrong and help those who have been stripped of their rights to speak out and continue to suffer in the face of a non-democratic government.
Protesters continue to try to send messages through social media so that they can voice their views. They continue to press for coverage in the international media in the hopes of prompting action to make positive change in Bangladesh.
Tasnim Nazeer is an award-winning journalist, author, and UN Universal Peace Federation Ambassador. She has written for Al Jazeera English, CNN, BBC, Forbes, Entrepreneur and others. She was awarded the Ibn Battuta Award for Excellence in Media in 2013.