The Hidden Failure of US-India Counterterrorism Cooperation
While New Delhi is getting more diplomatic support for its position, it is doing little to change the threat Pakistan poses.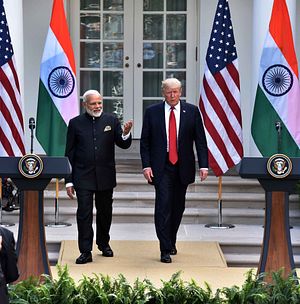 Late last month, the United States penalized three Pakistan-based Lashkar-e-Toiba (LeT) terrorists and terror financiers as Specially Designated Global Terrorists (SDGT) in a move that challenged Pakistan's professed earnestness in its fight against terrorism.
With the objective of restricting the financing and fundraising of the LeT, the U.S. Department of Treasury's Office of Foreign Assets Control (OFAC) designated two of the group's financial facilitators, Hameed ul Hassan (Hassan) and Abdul Jabbar (Jabbar), as Specially Designated Global Terrorists (SDGTs) in accordance with Executive Order (E.O.) 13224.
The two individuals were accused of working with or on behalf of the LeT. Sigal Mandelker, undersecretary for terrorism and financial intelligence, said that these "financial facilitators" were responsible for "collecting, transporting and distributing funds to support this terrorist group and provide salaries to extremists."
The consequences are not insignificant. This action prohibits any U.S. citizens from conducting any transactions with them, in addition to blocking the property and assets in the name of the two individuals within the United States. In addition to blocking the LeT's financial assets and network, it will seriously impair their capacity to raise funds for their activities.
The individuals in question are also notable. According to the U.S. Treasury Department notification, Hassan has been a financial facilitator for LeT, having worked earlier with Falah-e Insaniat Foundation, an alias of LeT, to send funds to Syria in late 2016. The notification provides additional background information too: Earlier in 2016, Hassan worked with his brother, Muhammad Ijaz Safarash and Khalid Walid to send funds to Pakistan on behalf of LeT.  Safarash and Walid were earlier designated as SDGTs for their links with LeT in March 2016 and September 2012 respectively.
Hassan on his Twitter account identifies himself as the leader of Jamat-ud Dawah (an alias of LeT) in Azad Kashmir. Likewise, Jabbar also has been a financier for LeT and is believed to have been working for the finance department of LeT since 2000.
The third person designated as an SDGT is Abdul Rehman al-Dakhil. This measure will similarly impose sanctions on the terrorist leader, blocking his property and assets in the United States as well denying his ability to engage in fundraising activities. Al- Dakhil, was "an operational leader for LeT's attacks in India between 1997 and 2001" according to the State Department. Al- Dakhil was a senior divisional commander for the Jammu region in the Indian state of Jammu and Kashmir in 2016. As of early 2018, he was a senior commander within LeT.
There is no doubt that the designation of the Pakistan-based LeT and penalizing it for their continuing acts of terrorism highlights the increasing synergy between India and the United States on counterterrorism. And one ought not to understate the importance of that collaboration.
But at the same time, that cooperation also has its limits. It is doubtful that these designations, and other moves like it, would be in any way sufficient to deter Pakistan and Pakistan-based terrorist organizations from continuing terrorist attacks against India.
Of course, the U.S. move has been welcomed by the Indian establishment. The MEA spokesperson in his press briefing said, "India welcomes the announcements… The announcement vindicates India's consistent stand that internationally designated terrorist groups and Individuals, including LeT and it's front, Falah-e-Insaniyat Foundation [FIF], continue to operate from and raise financial resources with impunity in Pakistan, and use territories under its control for carrying out cross-border terrorism in India and elsewhere in South Asia." Clearly, New Delhi is pleased.
On the other hand, both the LeT and Jamat-ud Dawah have been under both U.S. and UN terrorist group categorization for some time. The U.S. designation is the only the latest in a long string of Indian diplomatic victories in getting other countries and groups to support the Indian position on terrorism, even though there have also been occasional setbacks such as China blocking the effort in the UN to put Masood Azhar, a leader of the Jaish-e-Mohammad terror group, in a list of UN-designated terrorists.
There are questions about the utility of this diplomatic strategy. Pakistan has shown little indication that its policies will be dictated by fear of international diplomatic response. Thus, India is facing a situation today where it has substantial diplomatic success in its fight against terror, but with little real benefit in terms of any reduction in the threat it faces. Facing up to this reality is also challenging because it requires New Delhi to consider harder options that it has little appetite for.