The View From the Blogs: Stories of India's Cities
Three blogs that share stories from the back alleys of Delhi, Mumbai, and Kolkata.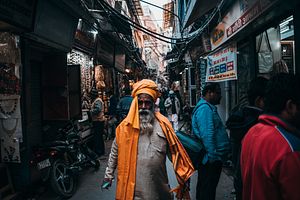 Let me write about something completely different this time. The idea of this piece is to discuss blogs covering the stories of India's three biggest cities: Delhi, Mumbai and Kolkata, one blog per metropolis. I have, regrettably, left out Chennai in Tamil Nadu, since, despite having been there, my knowledge of South India is too limited to confidently pick the right blog.
First, let me stress that the choice here is purely personal, maybe even whimsical. My selection is not based on any ranking, and I was not considering the number of followers, likes, or any such measuring rods that tell us a lot about popularity and little about content.
Second, I had a particular type of blog in my mind: Those that tell us both about history as well as stories from the current life of the city. Not a diary of the city as recorded through photographs, not quite a travelogue, not a list of highlights, not necessarily something that prepares you to visit the city or answer the question "What to do in X when you have two days?" Rather, I wanted to highlight blogs that throw light at dusty corners and forgotten by-lanes of a city so huge that one person is not able to encompass it. A blog that lets you look at the history of the city from a different, less known, perspective but also lets one feel its pulse even without going there.
Third, obviously but also importantly, I am a foreigner in India and although I have been to all of thse cities, my perception and my needs when reading such a blog may be different from those of Indians, and those of permanent inhabitants of those cities. I think that tourists should not necessarily go everywhere. A genuine, magical place may lose its magic if it get trampled by too many tourists. I want some of the blogs to be my eyes and ears, to go to places where I will not be able to or should not go.
Delhi – The Delhi Walla
In case of the capital of India, the choice was obvious.
Mayank Austen Soofi is a blogger who discovered his poet's heart; in his own words, he is also a devotee of Hazrat Nizamuddin Auliya (a Muslim mystic) and of Arundhati Roy (Indian writer and activist). His blog, the Delhi Walla (which means "The Delhiite," the inhabitant of Delhi) has acquired iconic status. He is also a keen photographer and his photographs can sometimes serve as poetic descriptions while his poetic descriptions are sometimes nearly photographs.
Take this description of the view from Humayun's Tomb, the famous mausoleum of a Mughal ruler: "From this height, Delhi is not looking like Delhi. All that can be seen are trees, lots of them, spreading out until the line of horizon as if green had smudged out of a painter's canvas." I remember that view but I would not find such apt words to describe it.
But apart from the famous places – such as the Akshardham temple, the Lakshminarayan temple, the tomb of the already mentioned Nizamuddin Auliya, or Rajghat, where Gandhi's mortal remains were cremated – the blogs offers lots of what I need: tales from the city's history. You can find out that somewhere between the glassy and fashionable shops and restaurants of the middle-class shopping area, the colonial Connaught Place, still hides a small store established in 1935, housing what is possibly Delhi's oldest refrigerator. Among the houses and residences – some of them opulent – visited by Mayank Austen Soofi there was also the makeshift home of an elderly tea vendor, Chacha Jan. "The Delhi Walla once documented his house, little knowing that it would soon be history," Mayank Austen Soofi wrote as some time later, the house of the poor man was demolished. Travelling with the Delhi Walla, we can also imagine ourselves sitting in a tea stall that consists of one wooden bench and a half-platform next to a tomb or in a library of newspapers.
While writing his blog for years, the Delhi Walla expanded his activities into describing sites from other cities or even countries – but also into new subjects. One part of the blog is the Biographical Dictionary of Delhi, which incorporates sketches on the life of both famous historical people connected to the city (such as Amir Khusro or Mirza Ghalib) but also much less-known, living people who serve as pillars of small worlds: A lifelong cook for a deceased writer, Khushwant Singh. A seller of cheap literature who does not read books and to whom you can return a book after reading and pay the half of its price. Mayank Austen Soofi has also, among others, published a book on life in Delhi's red light district (Nobody Can Love You More) and started a project of collecting self-written obituaries: you can send him your own obituary the way you would imagine it (in 200 words) and he may publish it. Altogether, however, the Delhi Walla blog is not an obituary of Delhi, but rather an attempt to find poetry and peace of mind in the sidelines of the hectic life in India's capital.
Kolkata – the Concrete Paparazzi
Deepanjan Ghosh, the author behind the Concrete Paparazzi, is, in his own words, a person who works "for a radio station in Calcutta, now called Kolkata" but during the weekends turns "into a mix of Lara Croft and Indiana Jones" to explore his city (and beyond it to other regions on India, but here I'll focus on Kolkata). He is a blogger with a historian's reflexes: Many of the blog posts come with a detailed background and a bibliography at the end.
More focused on history than the present, the Concrete Paparazzi is a great tour through Kolkata's architectural legacy. In line with my needs, it goes far beyond the highlights into the shade, as the author explores abandoned temples and mosques, ruined colonial gunpowder magazines slowly crumbling in the countryside, or lesser-known museums. You can also learn the history of a Japanese Buddhist temple located in Kolkata or of the second Bengali man (Kolkata is the capital of West Bengal) who swam the English Channel. Why should we, after all, focus exclusively on the first person to do something? This, in a way, is the same as asking why we should focus only on the most popular, taken care of and touristy sites in a city.
Some of the blog posts, for instance, take us to Serampore, a city outside Kolkata and the site of a former Danish colony. Yes, Denmark had a colony in India. The Danes were far behind the four other European nations – the Portuguese, the British, the Dutch, and the French – in colonizing India, but their single colony, Frederiksnagore (now Serampore), is one curious pebble in the river of Indian history. In one of the stories we learn how many purposes a building can serve in its lifetime. A Hindu temple in Serampore had been shifted as the river changed its course and closed in on the building, but the old, abandoned temple was taken over by Christian missionaries working under the auspices of the Danes. One of them was an Anglican from Cornwall, Henry Martyn. During his life in India, the old temple became a residence for the missionaries. Later, however, it became a rum distillery after the missionaries abandoned it. Now, despite being owned by a company called the Howrah Water Works, the "pagoda of Henry Martyn" is nearly in ruins, and, as the blogger's photographs demonstrate, the trees growing from its roof are the most vital part of the building.
But not all the stories here are purely about distant history. Some link history with the present. One blog post tells us about the abandoned mosque of Beliaghata, which is now inhabited by Hindus; another one about a living mosque on a small island which, due to its "secluded location" has become a favorite place for "coochy-cooing couples" of young Kolkatan lovers. Another blog post witnesses the Muharram celebrations and – to return to history – one story is about how Denmark recently restored some of the buildings of its former colony in Serampore, creating a tavern and a hotel, and renovating a church.
Mumbai – Mumbai Magic
A bit lighter on the history leg, Mumbai Magic is great as a companion in walking through Mumbai's everyday life. It is run by three women, Janaki Krishnan, Deepa Krishnan, and Aishwarya Pramod, each representing a different generation of one family, and hence offering different perspectives.
Apart from reading about Mumbai's historic landmarks, such as the Victoria Terminus station or the Bandra station, you can accompany the authors in their visit the largest synagogue of Baghdadi Jews in Mumbai or take the trip to Janjira, the fortress of the infamous African pirates who used to operate from the Indian coast. Besides this, the blog not only informs about new social initiatives, exhibitions, and theater plays in the financial capital of India, but lets you peep through a few less-opened windows. Follow the three authors as they meet the Nandiwale: the people that travel with bulls that look similar to Nandi, the mythical bull of the god Shiva, and which are believed to answer peoples' questions by nodding their heads. Or visit the photo exhibition prepared by the children of Dharavi, Mumbai's biggest slum.
There are also some reflections on the life of Mumbaikars (Mumbai-dwellers), both the mundane and the sacred. The famed Hali Ali Dargah, a tomb of a Muslim saint, is stormed by crowds daily but women are only allowed up to a certain point and one of the blog posts lets the male reader have a taste of the woman's perspective of such a visit. The block of flats in which the city's middle classes live still have lift operators: people sit in the elevator all day long and push the button for you to get you to the chosen floor. Obsolete? Not really needed? The authors of the blog would disagree. But it is also something very Indian: the masses of people must have their jobs.
As observed by Deepanjan Ghosh of the Concrete Paparazzi blog, one of the results of people's addiction to smartphones is that they have stopped (to a degree) looking at their own cities. It's good that we now have blogs about these cities, even though we will be reading them while travelling through our own towns and metropolises.