Tsai's US 'Stopovers' and Ma's Mainland Visit
The recent travels of Taiwan's president and her predecessor reflect wariness of Beijing's response, and the delicate diplomatic dance across the Taiwan Strait.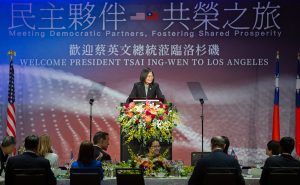 Taiwanese President Tsai Ing-wen met with U.S. Speaker of the House Kevin McCarthy on Wednesday, during a meeting at the Ronald Reagan Library in McCarthy's home state of California. 
McCarthy originally wished to visit Taiwan to meet with Tsai, as his predecessor Nancy Pelosi did. McCarthy indicated an interest in visiting Taiwan if he were elected speaker of the House in July 2022, shortly before the Pelosi visit took place in August. It was reported in January 2023 that the Pentagon was planning for McCarthy to visit Taiwan. 
However, a scoop from the Financial Times revealed that McCarthy had been persuaded instead to meet with Tsai during a stopover in the U.S. by the Taiwanese president on her way to visit Taiwan's diplomatic allies. This shift came after Taiwan shared intelligence with McCarthy about China's potential response if he were to visit Taiwan. Following the Pelosi visit, China responded with a series of live-fire exercises that took place closer to Taiwan than during the Third Taiwan Strait Crisis. 
For the most part — and probably by design — Tsai's transit through the U.S. was fairly uneventful. Apart from meeting with McCarthy in California on the way back to Taiwan, Tsai had earlier stopped in New York, where she spoke at the Hudson Institute and received an award from the think tank. Tsai did not meet with any Biden administration officials. 
During her meeting with McCarthy, Tsai quoted a 1987 speech by Reagan in which he stated, "Freedom is never more than one generation away from extinction." Tsai noted the significance of her meeting McCarthy at Reagan's presidential library; Reagan was the president who issued the Six Assurances on Taiwan. 
In his comments, McCarthy emphasized the successes of Taiwan's democracy, its shared values with the U.S., and strengthening economic ties. McCarthy brought a bipartisan delegation with him to meet Tsai and avoided attacks on Democrats over issues regarding China, as has occurred on other occasions. 
Tsai's speeches at the Hudson Institute and the Ronald Reagan Library saw some protests from pro-unification groups, including an airplane flying a banner that read, "One China! Taiwan is part of China!" above the McCarthy-Tsai meeting. A front-page article by the Liberty Times, Taiwan's most widely read newspaper and the major outlet of the pan-Green camp, alleged that according to Taiwanese national security sources the Chinese government had paid protestors $400 each to participate in the demonstration. The article stated that these efforts were directed by Deputy Consul General Li Chunlin.
Whether China will react militarily to the McCarthy-Tsai meeting, as it did to the Pelosi visit, is not clear. Certainly, even if the shift in location for the meeting was an attempt to dial back tensions, China may still feel obligated to respond with a show of force. China stated before the meeting that it would "fight back" against the meeting. An email sent to members of Congress that met with Tsai from Li Xiang, the Chinese embassy's liaison to members of Congress, asserted that "China will not sit idly by in the face of a blatant provocation and will most likely take necessary and resolute actions in response to the unwanted situation."
A Chinese carrier group was sighted southwest of Taiwan on the same day as the McCarthy-Tsai meeting. The carrier group included the Shandong, China's first domestically-built aircraft carrier, which has been used on other occasions for military signaling. The Shandong, for example, sailed through the Taiwan Straits last year before a call between U.S. President Joe Biden and Chinese President Xi Jinping. In the past few days, Chinese warplanes also intruded into Taiwan's Air Defense Identification Zone. 
The USS Nimitz aircraft carrier is about 400 nautical miles east of Taiwan currently. 
Taiwanese Minister of Defense Chiu Kuo-cheng has neither confirmed nor denied whether the carrier's presence is related to the Shandong and the Ministry of Defense has stated that it is monitoring the Shandong carrier group. 
China may or may not step up military activities in the coming days. Historical precedent indicates that China usually responds with military exercises in response to visits by Taiwanese presidents to the United States. 
Such visits are usually framed as a "stopover" or "transit" rather than an official diplomatic visit in the absence of official diplomatic relations between Taiwan and the U.S., as well as in order to avoid military responses from China. However, this does not always prevent military responses from China. 
This time, Tsai's two stops in the U.S. were framed as "stopovers" on Tsai's way to visit Taiwan's Central American diplomatic allies, Guatemala and Belize. Shortly before Tsai's tour of Central America started, Honduran President Xiomara Castro announced that Honduras would be breaking off diplomatic relations with Taiwan in favor of China. While Castro had made it a campaign promise to break off ties with Taiwan in favor of China before her election victory in November 2021, she reversed course on the pledge in the course of taking office. With Castro finally following through on changing recognition, Taiwanese Foreign Minister Joseph Wu stated that he believed that the timing before Tsai's trip was deliberate. 
In the same timeframe as Tsai's visit to the U.S., former Taiwanese president Ma Ying-jeou — Tsai's immediate predecessor — visited China. The overlapping timeframe and the symmetry of the two visits have not gone unnoticed, considering that Tsai is a president from the historically independence-leaning Democratic Progressive Party (DPP) and Ma was a president from the historically unification-leaning Kuomintang (KMT). 
Ma is the first former head of state of Taiwan to visit China since the Chinese Civil War. Ma was ostensibly visiting China as part of efforts to lessen cross-strait tensions. Ma's visit also coincided with the Qingming Festival or Tomb Sweeping Holiday, which is usually a time to commemorate one's ancestors. As such, part of Ma's visit entailed a speech at his family grave in Hunan, which was delivered in Hunanese. 
Although Ma stated before setting out to China that he would not meet with high-ranking Chinese government officials, he did meet with Song Tao, the director of China's Taiwan Affairs Office (TAO). Other visits to China in recent memory by KMT officials, such as by Vice Chair Andrew Hsia, have proved similar. Before setting out to China in August, immediately after China's live-fire exercises around Taiwan, Hsia stated that he would not meet with top Chinese officials. Yet Hsia met with Chen Yuanfeng, the deputy head of the TAO, and Zhang Zhijun, who is currently the director of the Association for Relations Across the Taiwan Straits.
Ma's visit was scrutinized by the public. Although Ma did mention the Republic of China (ROC), the official name by which Taiwan is known, several times during comments made in China, Ma was criticized for moments in which he declined to mention the ROC. For example, Ma avoided referring to himself as a former ROC president during his visit to the former ROC presidential office in Nanjing in front of a portrait of Sun Yat-Sen, instead stating, "I also became 'that' in 2008." That the Chinese government reportedly denied requests for Ma's security detail to carry guns, despite this being allowed for previous visits to China by former KMT Chair Lien Chan, was similarly seen as an affront. 
Ma's awkward reference to himself as having been "that" has been widely mocked online, along with comments that he later made to Chinese students in a speech in which he said that the ROC Constitution applies to the Chinese mainland. Likewise, his comments referring to Taiwanese as being ethnically Chinese and descendants of the Yellow and Yan Emperors, as well as praising China's COVID-19 response, too, provoked outrage. The Mainland Affairs Council criticized Ma for echoing China's "One China" framework. 
Ahead of elections next year, the KMT is increasingly leaning into the narrative that the DPP is pushing Taiwan into dangerous geopolitical territory by facilitating too close ties with the United States. The Ma visit to China — as well as any forthcoming Chinese responses to Tsai's U.S. visit — will likely be used as fodder for campaigning. 
The McCarthy-Tsai meeting is not the only meeting between high-ranking elected U.S. officials and Tsai scheduled for this week. Michael McCaul, the chair of the House Foreign Affairs Committee, arrived in Taiwan on Thursday with a bipartisan delegation that will meet with Tsai. It is to be seen if China reacts to this, as well.