Unopposed But Protested: Bishkek Gets a New Mayor
The last five consecutive mayors of Bishkek have been accused of corruption — not a great record.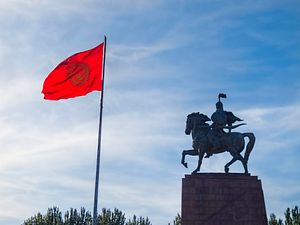 Bishkek has a new mayor but, as RFE/RL reports, Aziz Surakmatov's August 8 election was met with small protests in the Kyrgyz capital. A day earlier, the Central Election Commission said it had declined a request from activists to establish the direct election of the mayor of Bishkek.
Surakmatov, the only candidate proposed by the Social Democratic Party of Kyrgyzstan (SDPK), received 43 of 44 votes in the city council.
In Kyrgyzstan, the mayors of Bishkek and 11 other major cities are indirectly elected. According to 24.kg, at present the only groups that can nominate a candidate for the Bishkek mayoral post are the city council factions, the majority coalition, and the prime minister. In the past, the president nominated candidates. This virtually ensures that the capital's mayor is at least not objectionable to the city, and the country's, ruling party.
The city council elects the mayor, rather than a direct election by the city's residents. The city councils, in turn, are directly elected using a proportional system, meaning that voters essentially cast their ballots for a specific party and the party determines which individuals fill the seats. The last such local elections occured in December 2016, in tandem with a controversial national referendum to amend the Kyrgyz constitution.
In this system, parties — and specifically, Kyrgyzstan's dominant party the SDPK — hold the most power. Parties determine who sits on city councils, and through that venue who is nominated and elected mayor.
A glance at the record of Bishkek city mayors demonstrates that there's something wrong with this system. The last five consecutive mayors of Bishkek have faced serious scandals — corruption and abuse of office allegations, arrests, and exile. How can one office churn out cases of corruption with such consistency?
Let's review the last decade of Bishkek city mayors.
First, there's Daniyar Usenov, who was appointed by President Kurmanbek Bakiyev in November 2007 and served until July 2008 when Bakiyev named him board chair of Kyrgyzstan's Development Fund. In 2009, Usenov became prime minister under Bakiyev and when the 2010 revolution swept Bakiyev from power, Usenov went too. In 2013, Usenov was convicted in absentia for abuse of power and misappropriating public land during his tenure as mayor of Bishkek. At the time, Usenov's whereabouts were unknown. He recently re-appeared, under a new name, in Belarus — where Bakiyev also found a soft landing and new citizenship. Belarus has refused an extradition request.
Next, let's consider Usenov's successor Nariman Tyuleev, who served as mayor of Bishkek from July 2007 to April 2010, when the second Kyrgyz revolution upended the balance of power in the state. Shortly after the revolution, Kyrgyzstan's acting prosecutor-general announced an investigation into the former mayor, citing witnesses as telling investigators that Tyuleev's supporters orchestrated the looting and disorder in Bishkek during the revolution. In any case, by 2011 Tyuleev was in parliament, representing the Ata Jurt party. In 2012, however, he was arrested for fraud during his tenure as mayor and the next year was sentenced to 11 years in a penal colony. Two years later, the Kyrgyz Prosecutor General opened a case against another parliamentary deputy, Khadzhimurat Korkmazov, for attempting to accept a nearly $100,000 bribe from Tyuleev's relatives for help in swaying a pending Supreme Court case involving a different corruption investigation, which alleged that Tyuleev had made illegal land deals when he was mayor. Korkmazovwas sentenced to a year and a half for the offense. In 2016, Tyuleev was released after receiving amnesty.
Tyuleev successor in the mayor's office, Isa Omurkulov, served from April 2010 to December 2013. In early December 2013, the Kyrgyz Prosecutor General's office announced an investigation into Omurkulov and his associates. As RFE/RL reported at the time, Omurkulov and his associates were suspected of "redefining the borders of central Bishkek's Victory Park to accommodate the existence of illegal constructions from 2002 to 2010 and to allow for the erection of new buildings on park grounds." Omurkulov resigned from the mayor's office soon after and in August 2014 was acquitted of the charges.
In January 2014, Kubanychbek Kulmatov took over the mayor's office, where he served until February 2016. Kulmatov, who had been head of the customs service, went on to head the Kyrgyz-Russian Fund for Development before returning to the customs service in early 2018. His second stint at the customs service was cut short by the ever-expanding set of corruption scandals stemming from the breakdown of the Bishkek power plant in January, or more specifically, the Chinese contract to modernize the plant in 2014. Kulmatov has been charged with corruption, with the authorities alleging that when he was mayor of Bishkek he redirected $2 million in Chinese grants given as part of the overall 2013 Chinese financial aid package that included the power plant's modernization.
Kulmatov's successor, Albek Ibraimov, in turn has also found himself in legal trouble. Serving since February 2016, Ibraimov was dismissed in July 2018 while he was on vacation. The city council voted unanimously in a no-confidence vote a week after his deputy was arrested on abuse of power charges. Soon thereafter Ibraimov was arrested, accused of misappropriation of funds and embezzlement.
It's critically important to note that corruption prosecutions in Kyrgyzstan have often been heavily politicized. This isn't to say that the instances of corruption never occurred, but rather that the rationale for the authorities to pursue specific individuals how and when they do has more to do with the contemporary political situation in the country than any other motivation. For example, Kulmatov's and Ibraimov's arrests have been framed by regional observers as part of the widening rift between former Kyrgyz President Almazbek Atambayev and current President Sooronbay Jeenbekov. Usenov's prosecution is directly linked to his ties to Bakiyev. This overarching tendency to politicize corruption investigations complicates the legitimacy of their conclusions.
That said, recent history would support the notion that there may be something fundamentally wrong with the process of selecting the mayor of Bishkek. The post, which as noted above, is firmly in the hands of the ruling political party is fertile ground for self-enrichment and furthermore a clear target when the power balance shifts. In much the same way that no Kyrgyz president has left office without being hounded thereafter by his (or her) successors, it seems that no Bishkek mayor can escape the accusation of corruption after leaving office. 
Meanwhile, the new mayor of Bishkek takes office with some in the capital protesting his election (or rather, selection, since he was running unopposed). RFE/RL's Kyrgyz Services noted that some of criticism of Surakmatov was directed at a possible conflict of interest as he is the owner of a construction company actively building in Bishkek.