US Announces New Sanctions on Entities Facilitating North Korean Activities
The new sanctions come as US-North Korea diplomacy pushes ahead.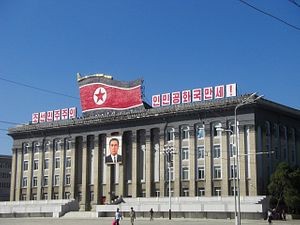 On Wednesday, the United States Department of the Treasury's Office of Foreign Assets Control (OFAC) announced sanctions against one individual and three entities in connection with facilitating North Korea's violations of United Nations Security Council sanctions.
"Today's action against one individual and three entities was taken pursuant to Executive Order 13810 of September 20, 2017, and targets persons involved in facilitating illicit shipments on behalf of North Korea," the Treasury Department noted in a release Wednesday. The three added entities to OFAC's Specially Designated Nations list were based in China, Russia, and Singapore; one Russian individual was also added.
The Chinese and Singaporean firms designated this week collaborated in their efforts to facilitate illicit shipments for North Korea. Dalian Sun Moon Star International Logistics Trading Co., Ltd. and  SINSMS Pte. Ltd., a Singapore-based firm, "worked together to facilitate illicit shipments to North Korea using falsified shipping documents, including exports of alcohol, tobacco, and cigarette-related products," the Treasury department noted.
The Russia-based firm sanctioned this week—Profinet Pte Ltd.—is a port service agency that worked with North Korean vessels violating UN sanctions knowingly. "Profinet has provided port services on at least six separate occasions to DPRK-flagged vessels, including the sanctioned vessels CHON MYONG 1 and RYE SONG GANG 1, which have carried thousands of metric tons of refined oil products," the Treasury Department noted.
"Treasury will continue to implement existing sanctions on North Korea, and will take action to block and designate companies, ports, and vessels that facilitate illicit shipments and provide revenue streams to the DPRK," said Treasury Secretary Steven Mnuchin, according to the Treasury release.
"The tactics that these entities based in China, Singapore, and Russia are using to attempt to evade sanctions are prohibited under U.S. law, and all facets of the shipping industry have a responsibility to abide by them or expose themselves to serious risks.  Consequences for violating these sanctions will remain in place until we have achieved the final, fully verified denuclearization of North Korea."
The move follows earlier moves after a June 12 summit meeting between U.S. President Donald J. Trump and North Korean leader Kim Jong Un in Singapore. In early July, the United States accused North Korea of evading a United Nations Security Council resolution-imposed cap on its imports of refined petroleum through illicit ship-to-ship transfers.
Even as U.S.-North Korea talks continue, Washington has sought to maintain pressure on Pyongyang. The U.S. position is that sanctions relief for North Korea can come only after Kim Jong Un agrees to concrete unilateral disarmament.
North Korea, meanwhile, has called for sanctions relief, pointing to its efforts to meet its obligations as per the April 27 inter-Korean Panmunjom declaration and the June 12 Singapore declaration, agreed by Kim and Trump.