What Would a First Philippine Navy Russia Visit Mean for Duterte's Pivot?
A closer look at the potential significance of the move.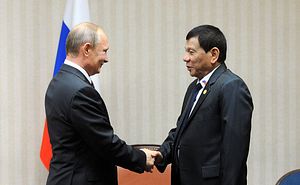 Over the past few weeks, we have seen talk surrounding the long-mulled move of a first-ever visit by a Philippine Navy vessel to Russia. While details remain unclear and the potential significance needs to be kept in perspective, it nonetheless deserves attention within the broader trend of Philippine President Rodrigo Duterte's perceived "pivot" to Russia as part of his wider independent foreign policy.
As I have observed before in these pages, one of the consequences of Duterte's so-called independent foreign policy, which seeks to boost the country's outreach with countries like China and Russia, has been the slow but sure development of Russia-Philippine defense, despite the clear limits that still exist (See: "Where Are Russia-Philippines Defense Relations Under Duterte?").
That has gradually also included the maritime realm, with some of this tied to wider defense collaboration such as the inking of a new military pact during Duterte's visit to Russia in June 2017, and some of it specific to the naval realm, such as multiple visits by Russian vessels to the Philippines. Both sides have also been looking at opportunities to further this aspect of cooperation in 2018 as well, whether it be in terms of military-technical cooperation as part of general assistance for Philippine military modernization, or continued visits by Russian vessels as was witnessed in June (See: "What's Next for Russia-Philippines Maritime Ties Under Duterte?").
One of the items that had been part of that discussion was a Philippine Navy ship making a port call to Russia. Earlier this month, Lorenzana had confirmed that this would take place fairly soon in what he characterized as a reciprocation for the visits of Russian warships to the Philippines last year. While such a port visit was not surprising considering the advances we have seen thus far and the previous mention of such an interaction in talks between the two countries, it would nonetheless be a significant move within bilateral security ties.
This week, we got a few more specifics on what the visit would look like. Navy spokesperson Commander Jonathan Zata confirmed to the Philippine News Agency (PNA) that the port visit to Vladivostok was scheduled to take place by the end of September, and that it would involve one of the Philippines' two Tarlac-class strategic sealift vessels (SSVs).
No further specifics were offered on some of the more significant details, including the number of personnel that would be part of the visit, with Zata emphasizing that those details were still being finalized. Those details, along with indications about future activities in the pipeline, are important because they would give us a sense of the true significance of the development and the future trajectory of this aspect of defense ties more generally.
A better sense will likely come in the days and weeks that follow, particularly with the ongoing interactions between the two sides, including Lorenzana's current visit to Russia, which started earlier this week and concludes on Friday. Those details will be important to take note of to see how the rhetoric about the relationship is actually translating into reality, and how new opportunities are factoring in amid old challenges that remain.