What's Next for RCEP?
Progress on the agreement continues to be slow despite the growing urgency to complete it.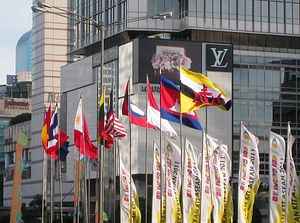 Over the past few years, we have seen increased levels of interest among some Southeast Asian states in pursuing trade agreements, be it bilateral deals inked between them and outside actors or wider multilateral ones such as the Trans-Pacific Partnership (TPP), which has now been rechristened the rather unwieldy Comprehensive and Progressive Agreement for the Trans-Pacific Partnership (CPTPP).
The drivers for this have long been apparent. Individual Southeast Asian states – from Cambodia down to Indonesia – have their own goals for making their countries more developed, be it achieving a certain economic growth rate or aspirations for "high-income country" status. And certain external trends we have seen in recent years, from protectionism to the outbreak of U.S.-China trade wars, have also served as an additional driver.
One of these agreements has been the Regional Comprehensive Economic Partnership (RCEP) – a free trade deal involving the 10 members of ASEAN plus its six dialogue partners. One ought not to understate the impact of RCEP, even if it is technically the harmonization of existing agreements rather than an altogether new pact. If it succeeds, RCEP will become the world's largest trading bloc, accounting for 3.4 billion people with a total Gross Domestic Product (GDP) of $49.5 trillion. That is of no small consequence to both countries as well as companies.
Yet, at the same time, it is also true that progress reports on RCEP have become an almost annual search for new ways to characterize the reasons why old obstacles have not been overcome. This is despite the renewed urgency given some disturbing developments on the world stage, including a U.S.-China trade war that does not appear to be ebbing anytime soon. If anything, U.S. President Donald Trump appears to be doubling down, telling his trade officials to examine the prospect of raising tariffs on $200 billion of Chinese imports to 25 percent from 10 percent.
Troubles have clearly been evident even at the latest rounds of talks between ASEAN along with Australia, China, India, Japan, New Zealand, South Korea. That was evident even in the recent, 23rd iteration of consultations in Bangkok. Despite some of the more positive rhetoric coming out in official circles, in reality, progress of any meaningful kind has been restricted to resolving differences over minor issues involving customs procedures and government procurement.
According to some accounts, about 16 out of 20 chapters within the RCEP bargaining framework that are still to be resolved. Meanwhile, resistance to the free trade deal is growing among trade unions, civil society and indigenous groups, particularly in poorer countries.
Country-wise, a major sticking point is India's reluctance to open its market, particularly to goods and services from China. That's partly due to wider protectionist tendencies that have long been apparent to trade negotiators who have dealt with New Delhi on any number of issues.
In terms of issues, among others, access to generic medicine, ensuring mining profits remain in-country, and opposition to privatization – particularly in key sectors such as water, energy, transport, and telecoms – are also weighing on negotiators.
Another general concern is regarding fears that too many people will be left behind amid an already established and ever widening wealth gap. That concern is very real too, and one which leaders are taking more seriously given the populist wave that has been sweeping across some key capitals, including in Southeast Asia.
One also cannot ignore the significant differences that exist within these countries that are part of RCEP, which partly accounts for why some gaps are hard to bridge. Within RCEP, Australia remains the richest country with a nominal GDP per capita of more than $55,000 while Cambodia is its poorest with just $1,300 for each person – below Myanmar, Laos, and Vietnam.
Of course, part of the hope is that RCEP can hope narrow some of these differences. At the recent set of ASEAN meetings that took place in Singapore, which is chairing ASEAN this year, Singapore Prime Minister Lee Hsien Loong reiterated his hopes that some sort of agreement could be forged by the end of the year, even though Lee himself has recently suggested that much more remains to be done to accomplish even that modest goal.
Whether or not that is a possibility will depend on whether negotiators can hammer out a deal that can both work for all sides but also make sufficient progress that actually makes it an agreement that is worth the years-long process of working through these issues. The next round of negotiations are set to take place in Singapore at the end of August will be interesting to watch in that context.
Luke Hunt can be followed on Twitter @lukeanthonyhunt.