What's Next for Vietnam-Philippines Defense Ties?
Hanoi and Manila continue to look for opportunities in the security realm in spite of the challenges for this aspect of their relationship.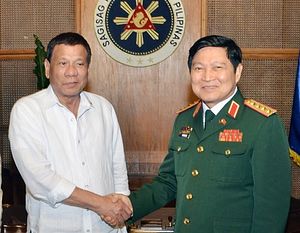 This week, Vietnam and the Philippines held the third iteration of their deputy defense ministerial dialogue. Though the interaction was just one among several between the two Southeast Asian states, it nonetheless served to highlight the ongoing efforts by Hanoi and Manila to continue to explore areas for security collaboration in spite of the challenges in this aspect of the relationship.
As I have noted before in these pages, until the inauguration of Philippine President Rodrigo Duterte, Vietnam and the Philippines had been significantly strengthening their defense ties as part of their wider relationship for several reasons. The two sides had come up with mechanisms from hotlines to working groups to facilitate confidence-building, and the relationship was elevated to a strategic partnership in 2015 under Duterte's predecessor, Benigno Aquino III.
While there is no doubt much continuity in the relationship, Duterte's emergence had nonetheless created complications for bilateral ties, including on the issue of the South China Sea where his softening stance in favor of boosting relations with Beijing had undercut the extent of convergence between Hanoi and Manila as the two forward-leaning claimants against growing Chinese assertiveness (See: "Beware the Illusion of China-Philippines South China Sea Breakthroughs").
Nonetheless, the two countries have also been making progress on some aspect of ties in spite of those challenges, at times in a quieter fashion than was done so in the past (See: "What's Behind the Resumed Vietnam-Philippines South China Sea Activity?"). Recent interactions have included discussions on areas for further progress, including facilitating exchanges involving young officers and better managing fishermen, which can complicate ties between the two sides.
This week, the defense aspect of Vietnam-Philippines relations was in the headlines with the holding of the third iteration of the Vietnam-Philippines Defense Policy Dialogue. The Dialogue, which was held in Vietnam, was co-chaired by Vietnam Deputy Defense Minister Nguyen Chi Vinh and visiting Philippine Undersecretary of Defense Cardozo M. Luna.
As is the case with these meetings, both sides discussed recent outcomes reached in ongoing mechanisms, including the meeting of the joint working group on Vietnam-Philippines defense cooperation. According to Vietnamese state media, they also discussed various aspects of ties, including boosting exchanges of delegations and high-level meetings; continuing personnel interactions on Southwest Cay and Northeast Cay islands; managing safety issues with respect to fishermen' promoting defense industry collaboration; facilitating professional exchanges in fields such as flight safety and aviation medicine; and sharing experiences in UN peacekeeping operations.
Though the breadth of issues discussed was clear, unsurprisingly, much less was said about specific moves both sides had agreed to take in advancing defense cooperation in the coming years, or progress regarding previous measures privately discussed or publicly mentioned. Also left unsaid were the clear lingering challenges posed to advancing ties in this realm due to a range of factors, including Duterte himself. Nonetheless, given the strategic significance of both actors within Southeast Asia and the wider region as well as their continued interactions on the security side, this aspect of ties will continue to be an interesting space to watch.