Amid Growing Bilateral Tensions, China Denies US Port Call Request for Hong Kong
The decision to deny a port call was announced a day after the U.S. approved a possible arms package for Taiwan.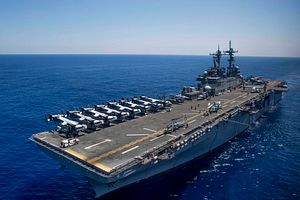 The Chinese government has denied a request by the United States for a U.S. Navy warship to visit Hong Kong for a port call, the U.S. consulate in the city said on Tuesday. "The Chinese government did not approve a request for a port visit to Hong Kong by the USS Wasp," the consulate noted. "We have a long track record of successful port visits to Hong Kong, and we expect that to continue," the consulate added. USS Wasp is a multipurpose U.S. Landing Helicopter Dock amphibious assault ship capable of operating the U.S. Marine Corps short takeoff and vertical landing (STOVL) variant of the F-35 Lightning II, the F-35B.
The Chinese Ministry of Foreign Affairs did not respond to a question on Tuesday at a regular press briefing regarding the decision. "For requests for U.S. military ships to visit Hong Kong, China has always carried out approvals case by case, in accordance with the principle of sovereignty and the detailed situation," Foreign Ministry spokesperson Geng Shuang told reporters gathered in Beijing.
China has denied port calls by U.S. Navy vessels to Hong Kong in the past at times of heightened bilateral tension. In 2016, months before the release of a highly anticipated international arbitral tribunal's award in a case concerning China's claims in the disputed South China Sea, Beijing denied a port call request by the U.S. Nimitz-class supercarrier USS John C. Stennis. (USS Blue Ridge, the U.S. 7th Fleet's command ship, was already in Hong Kong at the time of the denial.)
The decision comes at a time of heightened U.S.-China tensions, following the cancellation of two separate scheduled bilateral meetings on trade and military-military exchange. The cancellations followed the Trump administration's decision to move ahead with a new round of tariffs on some $200 billion in Chinese goods and to impose sanctions on the People's Liberation Army's (PLA) Equipment Development Department (EDD) under the requirements of the Countering America's Adversaries Through Sanctions Act (CAATSA). The move also follows the U.S. approval of a possible $330 million package for Taiwan comprising military aviation replacement parts.
The rejection of this latest port call request follows months of declining relations on the military front between the two countries. In May, the United States disinvited the People's Liberation Army-Navy from the 2018 iteration of the biennial Rim of the Pacific multilateral naval drills. Additionally, U.S. Secretary of Defense Jim Mattis vocally criticized Chinese militarization activities in the disputed South China Sea in a speech before regional defense leaders and analysts at the 2018 Shangri-La Dialogue in Singapore.