Australia and Papua New Guinea Close in on Manus Island Base Deal
What would a permanent Australian naval presence at Lombrum on Manus Island mean for the Pacific?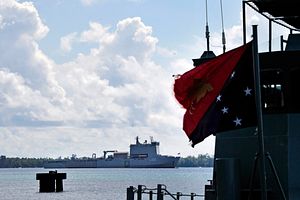 Recent reports indicate that the Australian government is close to finalizing an agreement with Papua New Guinea (PNG) to establish a permanent Australian naval presence at Lombrum on Manus Island. The base would be a joint facility shared by both the Australian and PNG security forces, and signify an increase in defense cooperation between the two neighbors. The hope is to finalize the agreement before Port Moresby hosts the Asia-Pacific Economic Cooperation (APEC) summit from November 12-18.
Manus Island lies in the Bismarck Sea, in the southwest of the Pacific Ocean, strategically located to provide excellent access out into the Pacific, but also the ability to launch toward northeast and southeast Asia. Its location would be a significant increase to Australia's current "green water" capability, or the ability to operate around its own littoral zone and the open oceans surrounding it, but without full global reach (what is termed a "blue water" navy).  
There is already a base located at Lombrum, but it would require significant upgrades to house Australian, and potentially also United States, vessels. A base was initially established at Lombrum by the United States, after ousting the Japanese from the island in 1944. It was subsequently transferred to Australia as the colonial administrator of PNG, but has been operated by the Papua New Guinea Defense Force (PNGDF) since 1975, when the country gained independence. Access to the Momote airfield located near the Lombrum naval facility for Australian and U.S aircraft would also be a likely component of the agreement, further adding to the security capabilities located on the island.
The naval base will be widely interpreted as designed to further check China's influence in the Pacific. The move toward establishing a naval presence on Manus Island comes after Australian security analyst ­expressed concerns over Chinese interest in the redevelopment of a number of ports in PNG. However, the move also signals an intent from Australia to play a more active role in wider Asian security operations. It demonstrates a more ambitious, or at least forward-leaning, maritime strategy on the part of Canberra.
The naval presence on Manus Island would also signal a more direct focus of Australia's strategic priorities on its neighborhood, away from following the United States into Middle Eastern adventures and instead demonstrating greater concern with the regional implications of China's growing power and assertiveness. Australia and other regional states still do not know the extent of China's ambitions, particularly in regards to maritime norms, which China has ignored with its activity in the South China Sea. This lack of trust seems to be leading Australia to pursue a more assertive role itself.
The presence of Australian and potentially U.S defense forces would also assist in PNG's own maritime security. Australia effectively gave PNG a security guarantee under the 1987 Joint Declaration of Principles and the increased presence would allow the PNGDF a more tangible cooperative framework with which to jointly pursue regional security. Presently, the PNGDF only has limited ability to patrol its large exclusive economic zone (EEZ), and effectively protect its sovereignty. The negotiated agreement with Australia would undoubtedly include a significant contribution to the PNGDF's resources and capabilities, as well as the opportunity to gain vital experience operating more closely with Australian and U.S. forces.
Australia has been slow to react to the rapid rise of Chinese power and its ambitious desire for greater influence. This Chinese rise has also coincided with the realization across Pacific countries that they no longer have to fall within Australia and New Zealand's uncontested sphere of influence: They have a choice of external partners. While PNG remains historically and culturally linked to Australia, it will not view this new contested environment as a situation of having to choose one power over another, but an opportunity to cooperate with multiple partners to increase its own resources and power, rather than be content as a submissive state.
PNG will be expecting value for itself out of any new security arrangements with Australia. For Australia this will require a more respectful approach than simply seeing PNG as as a security bulwark — a geographical obstacle placed in front of potentially hostile actors expanding southward. This perspective — a longstanding view in Australia's defense thinking — remains unhelpful in creating the trust and cooperation necessary with PNG to achieve a more genuine, and cooperative, security relationship. The progress and success of any new naval base on Manus Island will depend on it being fully considered and endorsed by PNG society.