China Postpones Military-to-Military Talks With US After CAATSA Sanctions
The U.S. decision to sanction Beijing has resulted in a setback to military-to-military dialogue.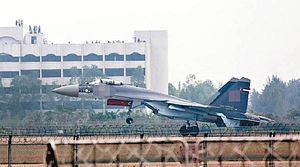 China has decided to postpone a schedule round of joint bilateral military talks with the United States following a decision last week by Washington to impose sanctions on the People's Liberation Army's (PLA) Equipment Development Department (EDD).
As The Diplomat reported last week, the U.S. sanctions were put in place under the congressionally mandated Countering America's Adversaries Through Sanctions Act (CAATSA), a law that took effect in January 2018. The PLA EDD was found to have been involved in "significant transactions" with Russia's main arms exporter, Rosoboronexport.
Sanctionable transactions in this case would have included China's purchase of Russian S-400 surface-to-air missile systems and Su-35S twin-engine multirole aircraft. Other countries that have concluded the purchases of these systems recently have not yet been sanctioned under CAATSA, with the distinction being that China has taken delivery.
According to the Chinese Ministry of Defense, PLA Navy commander Vice Admiral Shen Jinlong's upcoming visit to the United States would be canceled and planned talks in Beijing this week would also be delayed.
Wu Qian, a spokesperson for the defense ministry, added that the U.S. move was "a flagrant breach of basic rules of international relations" and "a stark show of hegemonism." The move had "severely harmed relations," Chinese state media quoted Wu as having said.
"We demand the U.S. side to immediately correct its wrongdoing and withdraw the so-called sanctions. Otherwise, the U.S. side must bear the consequences caused by this act," Wu said.
The postponement came after Chinese Deputy Foreign Minister Zheng Zeguang summoned U.S. Ambassador in China Terry Branstad to lodge "stern representations."
One U.S. official who spoke to Reuters about the decision to sanction China underlined that the decision had not been discretionary, but a result of China triggering the conditions outlined by CAATSA. "We hope it will be paid attention to because … our goal is to prevent these types of transactions," the sources told Reuters.
The United States and China have a range of military-to-military contacts. Earlier this summer, U.S. Secretary of Defense Jim Mattis visited China and met Chinese President Xi Jinping.
The move by the United States comes at a time of other growing tensions in the bilateral relationship. Last week, the Trump administration escalated its trade tariffs on China, leading to Beijing also calling off a set of planned trade talks for this week.
Tensions between the U.S. and China have risen this year. In May, the United States disinvited the PLA Navy from the 2018 Rim of the Pacific multilateral naval exercise, citing China's continued militarization of features in the South China Sea.