Duterte's Russia Pivot in Focus With Philippine Navy's First Port Visit
A look at the broader significance of a notable development in the defense relationship.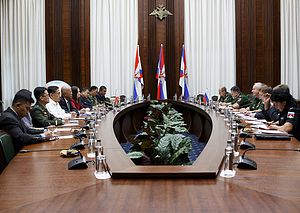 Last week, a Philippine Navy vessel begun its first-ever port visit to Russia. While this much-anticipated interaction is just one of several within the broader relationship, the voyage nonetheless deserves attention within the broader trend of Philippine President Rodrigo Duterte's perceived "pivot" to Russia as part of his wider independent foreign policy.
As I have observed before in these pages, one of the consequences of Duterte's so-called independent foreign policy, which seeks to boost the country's outreach with countries like China and Russia, has been the slow but sure development of Russia-Philippine defense relations, despite the clear limits and challenges that still exist. That includes the maritime realm, where interactions have included visits by Russian vessels to the Philippines. Moscow has also been looking to provide maritime-related equipment and expertise to advance ties (See: "What's Next for Russia-Philippines Maritime Ties?").
One of the agenda items long in the works between the two countries on the defense side has been a Philippine Navy ship making the first-ever port visit to Russia. While Philippine defense officials had couched this in terms of reciprocation for the visits of Russian warships to the Philippines, it is also something that Moscow has been encouraging. Such a visit would constitute a significant move both for bilateral ties but also for Russia's ongoing efforts to build out security ties with Southeast Asian states more generally.
On Friday, as had been announced earlier by Philippine officials, a Philippine Navy vessel left for its port visit to Vladivostok, finally paving the way for the interaction. The strategic sealift vessel BRP Tarlac, with 440 officers and a helicopter detachment on board, left Pier 13, Manila South Harbor for Russia on a voyage that is expected to take around 10 days.
Following its arrival in Vladivostok by October 1, the BRP Tarlac will be on a port visit until October 6. According to Navy spokesperson Commander Jonathan Zata, during the port visit, the Russian and Philippine navies are expected to carry out a range of interactions, including visits to Russian Navy facilities, sports and cross-cultural interactions, and sea sub-phase exercises in the waters off of Vladivostok – drills that will no doubt generate headlines of their own as they would demonstrate a notable development for ties.
Following the visit, the BRP Tarlac will then move on to participate in the International Fleet Review in Jeju, South Korea, which is scheduled to take place from October 10 to October 15. As I have noted previously, the Fleet Review is one of several defense-related engagements that Seoul has been highlighting for 2018 (See: "ASEAN-South Korea Security Ties in the Spotlight at 2018 Seoul Defense Dialogue").